In the lost year of the Fairy Tale world, Ariel finds Hook in the hopes of finding Prince Eric who has been kidnapped. They soon both realize that Black Beard has been holding him on Hook's stolen ship. But when Hook has to make the choice, he chooses getting his ship back over saving Prince Eric,
Back in Storybrooke in Once Upon a Time Season 3 Episode 17, Regina mentors Emma to use her magic while David and Mary Margaret try to have more fun with Henry.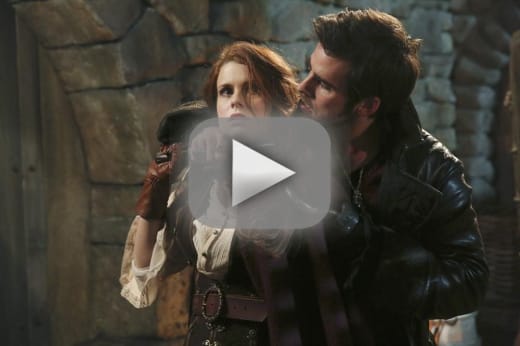 Ariel returns, still looking for Prince Eric and Hook tries to hide the actions of his past. Eventually he breaks down and tells her the truth.
When he swears he regrets what he did Ariel asks him to swear it on his true love's name. He swears on Emma's name and suddenly Ariel turns into Zelena. The Wicked Witch tricked him and when he swore on Emma's name she cursed him. If he kisses his true love, she will lose all of her magical powers.
If Hook refuses to kiss her, Zelena threatens to kill everyone Emma loves.
If you can't wait for your magical fix, you can watch Once Upon a Time online here at TV Fanatic. 
C. Orlando is a TV Fanatic Staff Writer. Follow her on Twitter.