Revolution Review: Austin Activation
Nick McHatton at . Updated at .
Tom Neville is a man who does not deviate from his plan, not even if his own son Jason is asking for help, as Revolution Season 2 Episode 18 so aptly proved.
There was a moment in the beginning when Tom grabbed Jason's face with his hands like a father would, making Jason think that for once he is actually listening to him... only to shoot down Jason's feelings and pleas for help once again.
It's a harsh reality of living with Tom, and Jason heading out on his own away from his father is a good call. Tom is nothing more than an escape artist. He escapes all of his problems by hiding behind his grandiose plans, ambitions and goals.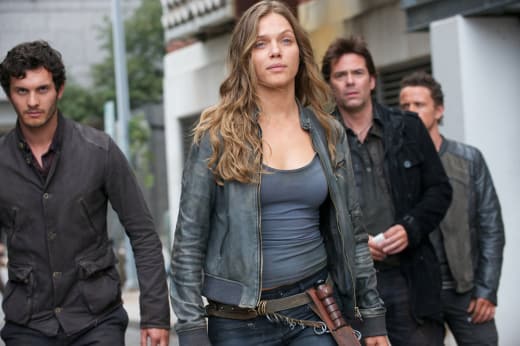 Jason has never really fit in with Tom at all - and to some extent Julia - he's always had a rebellious attitude and has never agreed with or abided by the ideals his parents set out. The Patriots might have turned him into a weapon and he wants to bury them for it, yet even without that goal he's always been a better fit on the side of the rebels. 
It's unfortunate that Jason could never completely find himself.
The Patriot recruiter mentioned that Jason was always so willing to give in. It was fitting that Jason's tragic end took place while he was under the spell he could never shake. Shockingly, watching Charlie send a sniper bullet clear through Jason's chest in self defense. Jason has sadly never gotten much to do and his best material ever leads to his death. 
It's a reflection on Tom. His escapes often end up being paid by those around him. Julia is in a Patriot prison somewhere paying for his escape, while Jason pays for Tom's absentee father-itis with death. Charlie is also a big victim in this. She kills Jason in self-defense, as mentioned, but she is quickly going to become Tom's greatest enemy. 
Charlie and Jason went through a lot together, but they did develop a friendship. We never quite knew what ever happened to them, yet in that moment she's kissing and hugging him. Perhaps wondering of what could have been, but now will never be because of Jason being collateral Patriot damage. 
Elsewhere, Monroe and Miles finding Frank in the middle of a little BDSM whipping pleasure? Well, there are not many words; the look of pure amusement and fun they had at Frank's expense says it all, and it echoes the friendship they once shared with the knowing glances they share with each other before Monroe whips Frank. 
Finally, Aaron finally figures out that the nanotech has taken over Priscilla's body. Her consciousness is still enjoying 2014. The nanotech just wants to experience what it is like to be human.
Again, this plot point offers no real value to the story, only serving to interrupt the momentum and pacing in an otherwise stellar episode. 
Are you disappointed Jason died?