The Real Housewives of Orange County Review: Giving Thanks
Miranda Wicker at . Updated at .
When last we saw The Real Housewives of Orange County, Shannon and David were hosting a dinner party. A very dramatic dinner party.
During cocktails, Shannon and David openly sniped at one another making everything uncomfortable. How will that play out? 
Let's watch The Real Housewives Season 9 Episode 3 now to find out!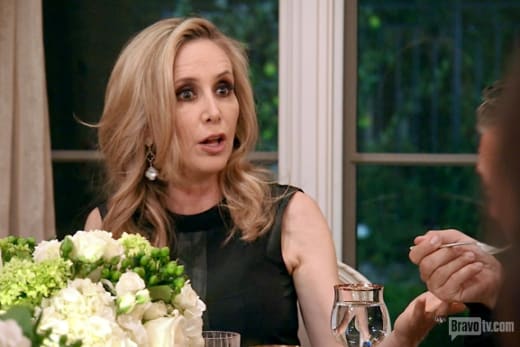 Shannon insults the women by saying that the women don't eat much and then proceeds to feed them a fattening meal. Tamra's amazed that Shannon did all the cooking and makes a stab at the fact that Heather doesn't cook. Ever. 
When David makes a joke about how he and Shannon don't get along, Shannon tells him to knock it off. Dinner goes silent. Minus 20.
Shannon starts talking about how she and David met and Vicki keeps interrupting. Heather tells her to stop interrupting and Vicki snaps at Heather. 
And then the women just keep taking stabs at Heather every chance they get all night long.
Oh look! Basketball! They all have fun shooting hoops in the basement. Plus 9.
After their little game, Shannon and Tamra become BFFs over vodka shots and Shannon gives Tamra a "morning after" pill which she calls a "Smart Party pill." 
Heather ruins Tamra's good time by telling her it's not a morning after pill and it doesn't matter anyway because Tamra got her tubes tied. 
Then Tamra unloads about Heather to Shannon and Vicki loudly enough for Heather to hear her. Minus 25.
When Shannon takes some of the women upstairs to see the rest of the house, Heather stays behind to tell Eddie about Tamra's breakdown about a baby. Ugh, Heather, I was on your team until you meddled in someone else's marriage. Minus 8.
Heather knows she'll have to confront the women and when she leaves, Tamra says Heather was being quiet all night. Probably because who was she supposed to talk to? 
In the car on the ride home, Heather can't talk to Terry about how she's feeling because she knows he'll say she's being over-sensitive. Eddie tells Tamra about the conversation he had with Heather and tells Tamra he wants to keep their marriage between them. 
The next morning, Tamra and Vicki meet for coffee and say that they can see traces of their past marriages in Shannon and David. They both think Shannon and David need counseling, which is an understatement.
Neither Tamra or Vicki seem to have any idea what's going on with Heather and how perhaps they're contributing to the problem.
Shannon calls a $120,000 chandelier a bargain. But David changes his own light bulbs. Plus 7.
Shannon says she bitches at David because she wants to feel loved. 
Vicki goes to visit Briana and Troy to talk about their relationship. Briana doesn't feel like Vicki has been emotionally present and Vicki's ready to tell Briana that she's going to live her life no matter what Briana wants her to do.
Vicki says Brooks didn't deserve to be annihilated by Briana, despite the fact that Brooks said Ryan should beat his wife. 
Briana wants to stop talking about Brooks and her mother. Vicki keeps saying she just wants Briana to accept her decisions. Plus 12 to Briana to remaining relatively calm and not kicking her mother out.
Heather and Terry are back in New York for Thanksgiving, so Vicki has everyone else over for Fakes-giving. Shannon and Tamra are her sous chefs.
In the midst of their preparations for the Fakes-giving dinner, I definitely spy an Uncle Ben's Ready Rice in Tamra's hands. Perfect. Plus 6.
The women take a drink break midway through their prep and Heather comes up. Shannon doesn't understand why Vicki's dwelling on the maybes about her relationship with Heather. 
Michael does NOT like his mother. When he walks in, she asks him to put the ribeyes on the grill and he's all "I just walked in..." 
The subject of kids these days comes up at dinner and Vicki says she doesn't think kids should speak disrespectfully to their parents, right in front of Michael, who says she's said some crazy things to him. Then he asks about her necklace.
88 carats of diamonds around her neck. Her divorce necklace. Plus 10.
Tamra calls Heather up for lunch so they can talk about what's going on between them. Tamra says that Heather's too good a friend and she doesn't want to write her off. Plus 7.
Heather says she was quiet at Shannon's party because she hasn't really felt like anyone wanted to hear what she has to say. It's a pretty decent conversation with both women taking turns and not speaking over one another and interrupting.
Heather makes the point that it shouldn't be okay for them to walk around saying she has a stick up her ass and then get mad when she corrects their grammar. Tamra doesn't really have anything to say to that and they seem to have put aside their issues after airing a few grievances. Plus 18.
Tamra invites Heather to an ugly sweater party and Heather says she'll select her own sweater but she'd love to attend.
EPISODE TOTAL: +16  SEASON TOTAL:  -140
What did you think of The Real Housewives of Orange County? Are you proud of Tamra for talking out her issue with Heather? Is this the last we'll see of the drama between them? When it comes to Vicki, Team Briana or Team Brooks?
Miranda Wicker is a Staff Writer for TV Fanatic. Follow her on Twitter.