Awkward Review: What Would Jesus Cheer?
Nick McHatton at . Updated at .
Could it be? Has Awkward Season 4 Episode 4 started to get the mojo of previous seasons back?  
At least the comedy is starting to return some of the fun it enjoyed in the past via some whoredrobe, sophomore sluts and space dildos.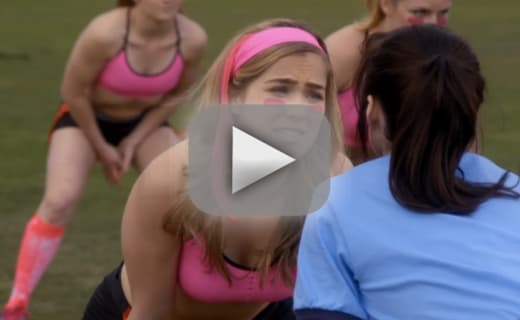 With the gang now in senior year, there's an opportunity to really have some fun with all the games and activities that goes around that time.
Funny enough, my sophomore class also legitimately beat the seniors, but, naturally, they cheated and "won." My anecdote has little bearing to the story, though, because it's all about the boys of the show going for something different than the ladies.
But, at some level, I do wish there was a bit of cheating from the senior ladies. 
So while the comedy is beginning to be exactly where it should be, the heart and soul of the series still remains in pieces.
Jake is taking a well-deserved break from Tamara, and he's bashing his ex. I get that, and I understand where's he coming from. I'm all on board with Jake finding himself and giving Tamara a little hell.
Matty's been scorned by Jenna a few times, so his reluctance to go to her is understood. On the other hand, he is so distraught over learning that he's adopted that he is running so far away from his problems that he might end up making choices he's going to regret. 
Like trashing his car in a failed ghost rider attempt. 
Tamara's character, though, is still mostly being assassinated. Gone is the girl who is just trying to find her place in the school, while being a little controlling with Jake.
In her place is a girl who is Catfishing Jake, barking orders every opportunity she gets and generally being at a completely different point from Jenna at almost all times. There's very little here that keeps both Jenna and Tamara connected as friends aside from them formerly dating two best friends and being close pals themselves. 
At least the adults are in a better position, Aunt Ally and Lacey are ready to pass on their knowledge of the sophomore sluts. Ally is even on OGSS - Original Sophomore Slut. 
Are you enjoying Awkward Season 4?