Elementary Review: A Race Against Time
Kate Brooks at . Updated at .
On the season's most heart-pumping episode yet, Lucy Liu made an incredible directorial debut that kept us all on the edge of our seats.
When Joan is taken as collateral against Mycroft, Sherlock works tirelessly in a race against time to ensure her safe return.
Yes, on Elementary Season 2 Episode 22, we find out that Mycroft isn't who we thought he was.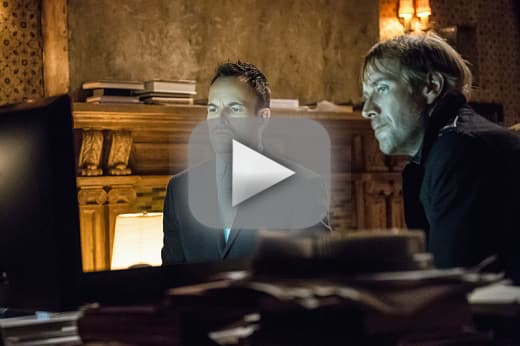 Just as I suspected, Elementary is finally raising the stakes for the final run of the season. On Elementary Season 2 Episode 21, we ended with the cliff-hanger of Watson being kidnapped.
With her abduction came the deep suspicion that Mycroft was behind it.
The investigation came to head when it was revealed he did indeed play a role... but that of a innocent man taking money from bad people. In the end, it seemed that Mycroft played everyone.
In one of many forms of Sherlock Holmes readings, Mycroft was made to be "M" the head of the MI6, as a nod to the James Bond series.
The synopsis for Elementary Season 2 Episode 23, states that Holmes and Watson will intersect with the MI6 during their investigation. Yhat said, I am really curious to know if this is something that is about to come into play in Elementary.
Is Mycroft involved with the British government?
All of the suspicious phone calls and letting the French Mafia take over his restaurant, was this Mycroft's cover? Was he trying to get Sherlock to work with MI6?
Now, we all know that "M" to Sherlock is indeed Moriarty, but another interesting twist in Sherlock Holmes writing is that when Moriarty was defeated by Sherlock, Mycroft assumed the "M" title. Anyway, this is all speculation.
I have so many questions and so many theories. It's exciting to feel this anticipation of answers. That's what makes good TV!
Other than Myrcoft's secrets, my favorite part of this episode was seeing Sherlock deal with Joan being held captive. The most accurate quote to describe this was from Mycroft when he told Sherlock, "I think [Joan] is the person you love the most in the world."
Sherlock does love Joan, the best way that he absolutely can. I truly believe that Sherlock wouldn't know how to continue on without her. Sure, he'd survive but he'd never be the same. Joan is a big part of him, if not the biggest. Holmes just doesn't trust her; he cares for her so deeply that I don't think he understands just how much.
You cannot have Holmes without Watson and vise versa.
Overall, this episode was very solid. I was impressed with Liu's direction. I really liked the shots where she focused directly on Sherlock and his rage and then his vulnerability. Some of the best scenes in any show or film are the ones that are the most dramatic. Jonny Lee Miller is one of the best dramatic actors on TV and Liu played to his strengths.
Not only did we witness his emotional perspective, we also got to see Sherlock as a brother. His endless insults on Mycroft's behalf were some of the funniest lines of Elementary Season 2. For example, he said to Mycroft, "Joan's a trained detective, you're a buffoon!"
Who do you think Mycroft REALLY is?