Mad Men Review: The Moon Belongs to Everyone

Carissa Pavlica at . Updated at .
It was hard to imagine how Mad Men Season 7 Episode 7 would end as a stepping off point leading into the final seven episodes to air in 2015, but it was with one small step for man and one giant step for mankind.
That's right... we skipped ahead through the month of July to the day Apollo 11 launched and the story couldn't have played out more brilliantly.
Not knowing where the hour was heading after Don received a letter from the firm about breach of contract made me feel tense and insecure, much like Americans as they waited to find out if the astronauts would successfully reach their destination.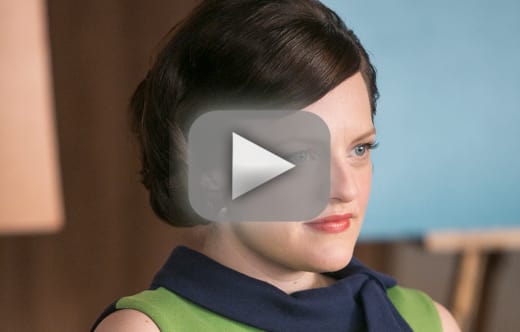 The Burger Chef presentation was scheduled to immediately follow the landing and Peggy worried that Apollo wouldn't make it, thereby blowing their chance at the business for another year. It was her first big presentation and on top of Apollo, she learned Julio would be moving away. it wasn't until she was faced with his loss that she realized how important he had become to her, acting as a surrogate for the childless mother.
Don learned the truth about his potential dismissal and then that of his marriage when he called Megan with the news. It wasn't surprising that Megan wanted to call it quits, but it didn't make it any easier for either of them. His promise to take care of her as long as she needed was met with a tearful goodbye.
The installment was a perfect follow up after Mad Men Season 7 Episode 6 and its focus on family, bringing the subject around again by emphasizing families of all types watching the lunar landing. Peggy, Don, Pete and Harry watched from a motel room, Betty had her college friend and her family visiting and the two watched, huddled together on the sofa, Roger watched with his ex-wife and Bertram sat with his maid on the couch.
All the original partners, present and accounted for. Phones were ringing as family wanted to share with each other even while apart the magic of reaching the moon, but Roger's call was about a different type of flight. Bertram saw the landin and promptly died on his couch.
With Jim trying to push Don out and Roger's realization that Joan was holding a grudge against Don because he didn't sell the firm and make her over a million dollars as a result, Roger came up with a plan. He met with Jim Hobart of McCann Erickson to hear his offer. He wanted the entire Chevy team so they could retain Buick -- Roger, Don, Ted and Jim. Roger countered:
We both know you're in the acquisitions business. You should buy the whole company. Because I have a vision. All our accounts, our cutting-edge computer and the employees I know to be worthy as an independent subsidiary of McCann. You just lost Burger Chef, we may win it, and then you'll still have it. And I'll have my company without Jim Cutler and all that baggage from CGC.

Roger
Meanwhile Don was certain that he was on his way out of the firm and he wanted Peggy to be safe. If he won Burger Chef and left, Peggy wouldn't be able to call the account a win. If she gave the presentation, it would be a solid win for her. With the two of them on good terms again, Peggy put her future into Don's hands and they prepared for her to present.
The pitch Peggy made neatly tied the idea of family and America's craving for togetherness into the successful landing on the moon. She spoke with all the eloquence of Don, but from a woman's perspective. Don's expression as she talked showed he didn't know what she had come up with, but he couldn't have been more proud. I wasn't the only one moved, as the Burger Chef executive wiped a little something off his cheek after her presentation.
Roger and Pete had no intention of doing anything without Don no matter what Jim Cutler wanted. Roger made his presentation to the partners before they held a meeting with the firm to announce Bertram's death. Harry tried to squeeze in, but he stalled too long and missed out. The partnership was off the table.
Joan was an easy victory when she learned her 5% would likely get her $1.5 million. Pete exclaimed with joy at the idea of his 10%, but Ted and Jim were holdouts. Ted had decided he'd had enough of advertising. Watching him throughout Mad Men Season 7 it was so obvious that he lost his passion for pretty much everything.
Don, however, had been back in the trenches, writing tags and coupons. He knew how to sell Ted on getting the fire back for the job they both once loved. No more business, just creative. At the prospect of moving back to the city, Ted was in. When they called for a vote, even Jim couldn't vote nay -- it's a lot of money!
Everything the original SCDP group had fought against and left was suddenly a little bit more attractive as an independent subsidiary. McCann had success with another firm. The group can stop fighting and start doing what they love again. Their incessant drive for money and to be the next big thing ripped from them what they all loved from their work. Now they have the chance to find it again.
The biggest, looming question is with five year contracts required of the partners for the McCann deal to go through, will that mean a time jump in 2015? We could effectively skip the Manson murders (saving Megan) and riots and Woodstock and sail straight through to Patty Hearst, Skylab 4, the oil crisis, Ted Bundy and just as the deal would come to and end, say around August 9, 1974, when Nixon steps down after Watergate.
The historical aspect of Mad Men has always been so important to the story and the five-year deal just screams of perfect throwbacks to the changing world. 
Other points of interest:
Betty talking with her friend and saying she's starting to think of Don as an old bad boyfriend (someone a teenage anthropologist would marry) still makes me believe they might find their way back to each other. 
Witnessing Sally struggle with her sexual growth was sweet.
Don't secretary making a pass at him at the very least proved Don has good taste, as well as how much he changed.
Bertram's inability to choose sides and standing by his team on one hand and his leader on the other was why the firm had so many problems. Poor Bertram.
I loved Don's vision of Bertram singing about the moon and stars with "The Best Things in Life are Free," finally cracking Don's tough exterior. It made sense since Roger told him his last words to Bertram were from the musical "Face the Music."
What we do know is that for the next five years, the team will be together. So much could happen in that time frame and it's all up to the writers to decide how they want it end. Their ability to pull off the impossible astonishes me. Seven episodes and I'm alright with a break. 
I also realize how greatly I will miss this incredible journey when it finally comes to an end. Dragging it out another year delays the inevitable. If you miss it before 2015, you can always watch Mad Men online via TV Fanatic.
Do you think the remainder of the season will take place in 1974?
Carissa Pavlica is the managing editor and a staff writer and critic for TV Fanatic. She's a member of the Critic's Choice Association, enjoys mentoring writers, conversing with cats, and passionately discussing the nuances of television and film with anyone who will listen. Follow her on Twitter and email her here at TV Fanatic.