The Big Bang Theory Review: Star Wars Apparition

Carla Day at . Updated at .
After someone dies, it's usually followed by a period of mourning and a somber mood - but not on The Big Bang Theory. Especially not when the funeral lands on Star Wars Day! This was one of the best episodes of the season.
The Big Bang Theory Season 7 Episode 22 defied that convention when the best laughs came after Sheldon found out that Arthur Jeffries, one of his idols, died.
RIP, Professor Proton. Arthur may be gone, but whether he'd like it or not, he'll live on forever due to his science show ... and in Sheldon's dreams.
Since Arthur's wake was on May 4th, Sheldon opted to not attend and instead continued with his original plans to celebrate Star Wars Day. Sheldon mourned his loss in the best way he could by spending precious time with Arthur. Or, more fittingly Obi-Wanthur. And, he was hilarious!
Arthur with the light saber FTW!
I definitely hope that he returns to guide Sheldon through difficult times again. Dead or alive, Bob Newhart is hilarious. His timing is impeccable and he's the perfect sounding board for Sheldon to work through his issues. Arthur provided the counseling that Sheldon needed to accept Arthur's death and move on.
Both times I watched the episode tears burst out of my eyes when Sheldon gave Leonard that hug. It was so honest, touching, and unlike Sheldon. It was a sharp contrast to the hug Leonard gave him after sharing the news of Arthur's death. I will remember that as one of the best moments in the series.
While Sheldon and Arthur stole the half hour, there wasn't a bad storyline. The various Star Ward related jokes were incorporated well and provided chuckles. I wonder how long it took the writers to come up with R2-Decaf, Cafe Au Leia, Chai Tea-3P0, and Attack of the Scones.
Penny's knowledge of the Death Star attack was perfectly staged. It's been 7 years, so it only makes sense she'd learn some of it through osmosis at least. Her sense of humor remains a nice complement to the guys. And the Death Star cake rolling off the table -- wow!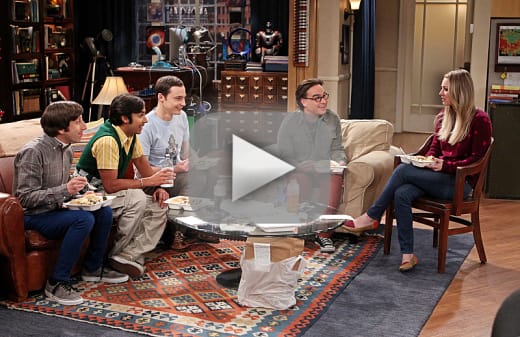 It was a little odd that Leonard and Penny decided to go to the wake alone, but it ended up being well worth it when the question that's plagued their relationship was asked, "Leonard, will you marry me?" It started as a joke, continued as a joke and was left as a joke by the end of the episode, but I don't think it's really a joke.
Their back-and-forth over Penny's marriage proposal was fun to see. Leonard finally was able to rib her about it and hold it over her head a bit instead of the other way around. Will he say yes? I hope he does. They're at a point in their relationship where they should make a decision about their future.
Whether they stay together or not isn't the issue as much as them having a conversation about where they are headed. I really want them to get married because it would shake up the series going into season 8. They would have a wedding to plan and Sheldon would be forced to make a move too. There's no way Leonard, Penny, and Sheldon would live together, right? Right?!?
Overall, this was one of the top episodes of the season. There were so many hilarious moments that I can't mention them all here, so check them out in our The Big Bang Theory quotes section.
It was difficult to pick my favorites, but here are two of the top moments:
Sheldon: You've come to me because you're my Obi-Wan.
Arthur: I'm-I'm not ... I'm not familiar with that. Is... is-is that an ... internet.
Sheldon: Wow. You're dead so I'll let that slide.
Leonard: I love you, but I will not marry you.
Penny: Thank you.
Leonard: Now about that second proposal, on the one hand...
Should Leonard and Penny get engaged?
Carla Day is a staff writer for TV Fanatic. Follow her on Twitter and on Google+.