The Big Bang Theory Review: Stupid Pop-Tart!

Carla Day at . Updated at .
"The Gorilla Dissolution" was moving along like most episodes of The Big Bang Theory with characters dealing with their personal problems. Penny had work trouble, Raj struggled with dating, and Howard was dealing with his mother.
The Big Bang Theory Season 7 Episode 23 wasn't anything particularly special, but not a bad episode either. Then ... all of a sudden a conversation about Penny's career troubles turned into something amazing.
It happened. It really happened and it was perfect. Leonard and Penny are engaged!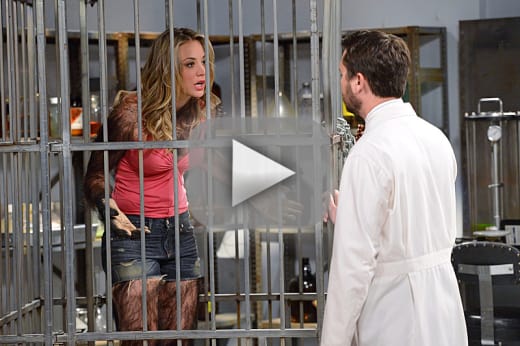 After Penny jokingly asked Leonard to marry her twice in The Big Bang Theory Season 7 Episode 22, I mentioned that I wanted them to really talk about their relationship. I hoped they would finally move forward and get engaged. I'm not sure that they are the best matched couple, but it will shake up the series.
The Big Bang Theory Season 7 has been pretty flat in regards to character growth with the exception of Raj finally dating (Thank you, writers!). Sheldon and Amy's relationship has moved forward at a slow, but appropriate rate for them. That stagnation has made the show get a bit stale. Going into Season 8, the series could use a swift kick. 
Leonard and Penny getting engaged is a huge and appropriate kick. They get to move forward in their relationship, while Sheldon will be forced to consider life after rooming with Leonard. It opens up a whole to world of interactions and jokes for the show. I've watched the series since the beginning, but this re-energizes my interest in it.
The other big shake-up that I could see coming is Bernadette and Howard having kids. They definitely got a taste of what it would be like when they took care of Howard's mother. At least a baby wouldn't yell, "Howard!" I doubt they will be rushing out to have a kid, but that's something they could consider next season.
I've waited all season for Raj's love life to take a positive turn and it finally did. I was worried when he ran into Emily at the movie theater on a date with another man, but it was just a ruse. The writers played a good trick. She likes him and doesn't want him dating anyone else. Raj is in a real, adult relationship. Way to go!
The slow build-up of the episode worked well for a surprise proposal. It was the perfect way for Leonard and Penny to come to realize they do want to be married. She's his Pop-Tart!
Check out the highlights of their proposal in our quotes section. 
Penny: Where did you get a ring?
Leonard: I've... had it for a couple years, not important. Penny... will you marry me?
Penny: Oh, my God, yes.
Leonard: This would have been so much more romantic if you didn't have monkey hair on your finger.

Love! Love! Love!
How happy are you about Penny and Leonard's engagement?
Carla Day is a staff writer for TV Fanatic. Follow her on Twitter and on Google+.