The Big Bang Theory Review: Let Him Go

Carla Day at . Updated at .
It really happened!
Penny and Leonard are engaged and ...  Raj and Emily had sex. Both were notable events for this group of friends and worthy of celebratory cheers and hugs on The Big Bang Theory Season 7 Episode 24.
Sheldon didn't handle the news well once he realized that Leonard wasn't going to continue to live with him. He doesn't handle change well unless it's of his own making. He was desperate to change fields of study, but the university refused because his job and funding were tied to his work on string theory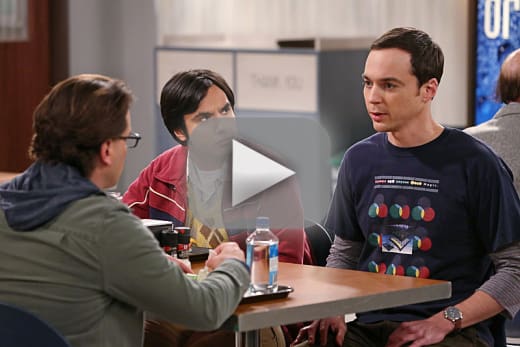 The engagement and Sheldon's reaction set up for some intriguing shifts in the show's format for next season. Both will open up the stories the writers can tell. Plus, Raj and Emily are going strong, so that's another relationship to explore.
Amy took the opportunity to bring up them moving in together, but Sheldon wasn't going to have any part of that. Poor Amy. Depending what happens next with Sheldon, maybe it's time for them to take a break so she can explore other relationships. He can't even drink his Strawberry Quik milk that she made for him without complaining.
Amy: Maybe you'll love living alone.
Sheldon: I don't know. Perhaps.
Amy: And if it turns out you don't ... you and I could live together.
Sheldon: You and... Oh, sure. And while we're at it, why don't we get engaged, too? Why don't we get a little house, start a family? Enjoy our sunset years together? Do you hear yourself, woman?!
Amy: Sheldon, it was just a thought.
Sheldon: No. Here's a thought. You're not moving in, Leonard's not moving out, everything stays exactly the way it is.
Instead of dealing with his problem at work and with Leonard, Sheldon decided to run away. Leonard's concern for his friend was touching. No matter how annoying Sheldon can be, Leonard truly cares about him. Their parting was one of the most sentimental moments of the series.
The Big Bang Theory may be a comedy, but some of my favorite moments are when the characters' friendships are highlighted. Of course, the emotional scene included a funny moment, which left a smile on my face rather than tears (well, I still had those too).
Leonard: Sheldon...
Sheldon: Yes?
Leonard: I'm gonna miss you.
Sheldon: Of course you are.
Leonard: He just made that easier.

While Sheldon was having his breakdown, Howard and Bernadette went through a revolving door of nurses for his mother. They even gave Penny a try and she didn't make it through an entire day. That Mrs. Wolowitz is not easy to be around. It wasn't surprising that the always-patient Stuart was a good match for her.
It's a bummer the comic book store is gone though. The fire provided a good backdrop to showcase Sheldon's disregard for other's problems while he focused on his own. It's not likely, but perhaps on his hobo with a credit card travels he'll gain a little empathy for others.
Or, miss Amy enough to move their relationship forward. She certainly misses him as her pillow attack on Leonard demonstrated. What would you like to see happen when Sheldon returns? Any thoughts on changes for next season?
There were some very funny moments in the finale. Check them out in our The Big Bang Theory quotes section!
What should the new living arrangements be?
Carla Day is a staff writer for TV Fanatic. Follow her on Twitter and on Google+.