The Real Housewives of Orange County Review: Meet Lizzie Rovsek!
Miranda Wicker at . Updated at .
While Tamra and Heather seem to have mended their fences on The Real Housewives of Orange County, Heather and Vicki are still on the outs. Will they be able to kiss and make up?
And how will the addition of new housewife Lizzie Rovsek factor into their feud?
Let's find out with our THG +/- review of The Real Housewives of Orange County Season 9 Episode 4...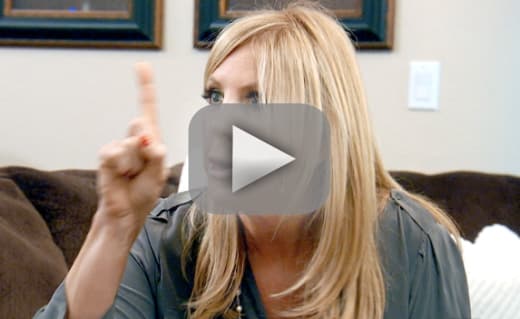 Shannon has lamented that she and David haven't been away by themselves since their kids were born, so David has surprised her with a night away at the St. Regis hotel. Plus 15 for paying attention, David!
Vicki's having her office redecorated since that's where she spends most of her time. Apparently the leather walls there smell like...leather. Who knew?
David and Shannon get to the hotel just in time to see the sunset outside their window. For one night only, David has packed their white noise machine. 
Tamra and Eddie are going to an Ugly Sweater party to benefit Children's Hospital. They look ridiculous and hilarious. Heather and Terry have matching sweaters which is equally hilarious because they're definitely women's sweaters. But Terry's rockin' it. Plus 9.
At the hotel, David and Shannon put on their hotel robes to drink bloody marys. Those two are super awkward together right now.
Lizzie Resvik, new housewife on the block, makes an entrance at the Ugly Sweater party by looking not ugly and falling down the stairs. Minus 12 for not playing along.
"Why do we have to look ugly," Tamra asks. "I think there's so many other things you could've done. Like...a pretty sweater party." BAH HUMBUG, TAMRA. Minus 14.
Lizzie takes Eddie's classes at the gym. She also has big boobs. Everyone keeps staring at them but it's pretty hard not to stare considering how she's accessorized them with a giant poinsettia.
Brooks and Vicki go out for dinner. Brooks gets a minus 5 for ordering his steak medium instead of medium rare. Vicki gets a minus 3 for referring to her love tank again.
Vicki tells Brooks that Briana feels like she has to protect her. Brooks calls his comment that Ryan needs to hit Briana to keep her in line "inexcusable." He would like to sit down and apologize to both Briana and Ryan. 
Then he tells Vicki he's not interested in hanging out with her friends because he's looking out for himself. Vicki tells him he's the "bomb dot com." Minus 27.
David wants Shannon to get a boob job to "firm them up" a little bit. Minus 12.
He tries to apologize to her over dinner for the state of their relationship. He says he doesn't try to make her angry and she says that she feels like he doesn't make her a priority at that hurts her feelings. 
They're going to work on their marriage. Plus 13.
Heather drops the word "amalgam" at the Christmas party and Tamra doesn't know what it means. Or she pretends not to know. Oh, Tamra.
David has had the romance treatment done to their room and after some kissing, Shannon says she wishes she were drunker and swigs straight out of a vodka bottle. Then they continue to make out in front of the camera and it's weird. 
Now we'll get to meet Lizzie for real. She's a bikini designer with two sons, Preston and Kingston, who are 3 and almost 2. Christian would like for her to be a stay at home mom, but she doesn't want to sit around the house feeding kids.
Lizzie was born in Orange County but moved to Kentucky when she was 9. She got a fashion design and merchandising degree when her father wouldn't let her pursue acting without a college degree. She gave up acting for her husband.
In addition to being a beauty queen, Lizzie was also valedictorian of her senior class. Which is more than we can say for fellow beauty queen Kenya Moore.
So far, so good for Lizzie. Plus 8.
Tamra and Eddie go to dinner and she realizes he's not wearing his wedding ring. He brings up the fact that she once tattooed Simon's name on her ring finger. Then she brings up the baby talk.
Eddie doesn't have any children of his own and Tamra wonders if he'll really be okay with that. She wants to have Eddie's baby, even though she's had her tubes tied. 
"What if I wanted to have one? Would you be okay with that?" Tamra asks. That's kind of a weird question. Eddie tells her that if they have a baby, she has to raise it. He doesn't know how and has to work. That's all he knows how to do and all he wants to do. 
Tamra just wants something Simon can't take away from her. This situation is just sort of terrible all around.
EPISODE TOTAL:  -55 SEASON TOTAL: -195
What did you think of The Real Housewives of Orange County Season 9 Episode 4? What do you think of new housewife Lizzie Rovsek?
Miranda Wicker is a Staff Writer for TV Fanatic. Follow her on Twitter.