Oh, Eva. Not only was your ditching of Matty and Jake awful, so was your cover up the morning after on Awkward Season 4 Episode 8.
Maybe, once Sadie is out of earshot of the prison guards, she'll follow through on her threats towards Eva.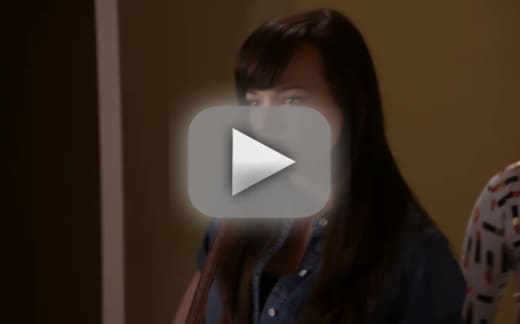 Following a shocking conclusion to Awkward Season 4 Episode 7, Matty and Jake's time in the clink was pretty tame. I wasn't expecting much from their stay there, but Matty found some advice and reason with his fellow clink-mates... only to fall under Eva's spell immediately upon his release.
He doesn't know any better since Eva has a Master's in lies and deception, but Matty could take it a little slower. 
Sadie is the only one who is truly there to bring Jake and Matty home. Without her incredible knowledge of Orange Is The New Black, there was zero chance that Matty and Jake were going home soon.
Jenna, at the very least, did give Eva Matty's brother's name, who is rather experienced in this kind of situation, but she didn't use it all, twisting Jenna's words around to make her look like a bad guy instead.
It marked another classic Eva trick, relying on her words and her persona to rope people in. Eva's going to make one excellent con artist soon enough. 
The better half of the story lay with Jenna and Tamara. The former's relationship with Luke - while probably having zero chance of going the distance - is one of Jenna's better relationships on the show. He's just a good match for her, understanding her position in life.
He's not attempting to change her or try to hide her; Luke's only mission is to get to know Jenna better and keep his scholarship too.  
Wonderful qualities, but is Jenna looking for them at this point in her life? She's trying hard to close the book on Matty, but those feelings for him are still lingering with her. 
Tamara's lesbian experience with Shane was really the highlight for the installment. There's little indication of Tamara's orientation other than she's cool with experimenting.
Her ride on the Lady-O is something she was trying to get with Jake for a long time, but might be a clue to her true orientation because she could never seem to feign any interest in having sex with Jake.
Tamara always seemed more interested in the idea of a relationship with Jake and the social capital it brought to her at schoo than necessarily being in a relationship with the guy. 
What do you think, is there potential there for Tamara to be a little less than straight?