Just when you thought you'd seen all the family drama Royal Pains had to offer, it comes along and proves that there's still more to learn about the Lawson brothers.
Add to that Jeremiah on the verge of a breakdown over the baby and Hank treating some tennis pros and you've got Royal Pains Season 6 Episode 2.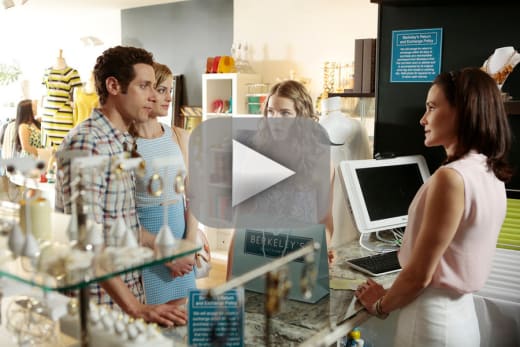 I'm not gonna lie, I truly thought that Emma was going to end up some long lost child of Boris'. I mean, what else could Hank have meant in Royal Pains Season 6 Episode 1 when he said he had heard a lot about her?
I guess he was referring to her party crashing rather than some sordid history relayed to him by Boris.
So consider me floored when it was revealed she was a long-lost sister of the Lawson siblings ! I'm with Hank, how could we have gone this long with no mention of her whatsoever?
Perhaps we should take a cue from Eddie R's rather rude interaction with Emma in the final minutes of the episode. It seems he has a serious bone to pick with Emma's mother, Meredith. Can't wait to see what that's all about.
On the other hand, we've gotten the opportunity to learn a little bit about Emma.
She's a hardworking young lady with a strong desire to prove herself and is even manager of a restaurant back in her hometown of St. Louis. She clearly has a lot of growing up to do, but her arrival should make for some interesting times moving forward should she become a permanent fixture in the Hamptons this summer.
And speaking of permanent fixtures... it seems Jeremiah is beginning to slightly dread the semi-permanent fixtures residing with him, mainly Divya and little Sashi.
I almost couldn't handle it when he retreated to the basement and screamed into a pillow. It's rare to catch Jeremiah emoting, so I'm starting to wonder if this season won't signal a turning point in that aspect of Jeremiah's personality.
Another shift that looks like it's going to stick is the better relationship between Paige and Evan, which got tested a little at the news of an unknown sibling. They managed to work through it with the help of their rather entertaining therapist, who I look forward to seeing more of!
Overall, it was a pretty solid installment with a lot to offer moving into next week.
But I have to ask, given Eddie's reaction, is Emma friend or foe?
C. Charles is a TV Fanatic Staff Writer. Follow her on Twitter.