The Real Housewives of Orange County Review: Unhappy Holidays
Miranda Wicker at . Updated at .
When last we saw our beloved Real Housewives of Orange County, Shannon Beador and Heather Dubrow were promising to bury the hatchet. Well, they were promising to try. 
Tonight on The Real Housewives of Orange County Season 9 Episode 8 we'll see if they were successful as everyone heads to Shannon's house for the annual Beador holiday party. 
Let's watch as the drama unfolds!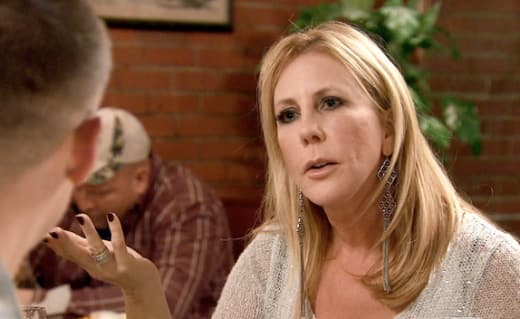 In addition to the decorations Shannon already put up in her house, she's hired a florist to come in and add even MORE flowers to her house. And trees. And poinsettias.
She also hired a caterer. Budget? What budget?
Eddie wants Tamra to stop getting botox and doing hormone treatments. She's not willing to do that. The more important thing to come out of her appointment with Dr. Lee is Ryan hearing that he's at high risk for a coronary event and that his iron is too high and he needs a cardiologist because of the HCG he was/is taking.
And that HCG he bought in the parking lot at "his" gym? Doesn't he work for Tamra and Eddie? 
Heather's booked an on-off hosting gig on Good Day LA during her publicity tour for her guest stint on Hawaii Five-0. LET IT BE KNOWN that they definitely called HER and no one else was offered the job. Plus 10.
Tamra breaks the news to Eddie that Ryan's got some issues as a result of the HCG he was taking. Eddie hopes he'll just stop trying to be a body builder but otherwise doesn't really seem to care. Eddie's weird. Minus 4.
It's party day for Shannon and she's snapping at David about lighting the lamps and drinking tequila. She's such a nag. Minus 12.
Heather's Hawaii Five-0 episode is airing the night of Shannon's party. Instead of staying home and viewing the episode, she's going to the dinner party. 
Shannon's party looks amazing! It's all really, really beautifully done. 
Shannon fills Tamra in on the details of her sit-down with Heather. When Tamra asks if they're okay, Shannon says she doubts the authenticity of Heather's words because Heather's an actress. Minus 8.
Lizzie and Christian arrive followed by Heather and Terry and no one greets them at the door. That seems weird. 
Before they can go into dinner, Heather sits down with Tamra and Eddie and tells them she pitched CUT Fitness to Good Day LA and Tamra's pissed that Heather has already promoted a different gym on Good Day LA. Eddie was totally into it before Tamra got upset.
Eddie and Terry try to squash the argument and move on. Tamra's not one to just let things go so this is going to get fun. Minus 4
As they move inside for dinner, Shannon and David move around and greet their guests. Vicki tells a gay man he doesn't look gay right after asking him if he's sleeping with the woman he's standing next to. Minus 8.
Heather and Vicki have a heart to heart about how she's sad that Briana and Ryan are moving to Oklahoma. Vicki says her biggest fear for Briana is that she'll end up divorced. Heather gives her solid advice and they hug. Friends!
In the other room, Tamra's telling all the other women about Heather bringing the other gym onto Good Day LA and how she wants to bring CUT Fitness on now. Lizzie says it's great that Heather wants to do this and Shannon says it's bullsh*t. 
Tamra's getting a Minus 50 for this stunt. And now Tamra's talking about a private conversation and says that Heather told Tamra to choose a side. 
Now Shannon's going to have to bring up the fact that they've been having this conversation since Heather's back into the room. When Shannon and Tamra don't say anything about the conversation they were having before Heather walked in, Lizzie just throws them under the bus and makes them all talk about it.
I can't decide if this is a really good thing or a really bad thing, but everybody better batten down the hatches.
Tamra blatantly tells Heather she doesn't believe Heather's story about the fitness studio on the air and then it all gets crazy. Shannon jumps in on Heather and Tamra stops talking and defending herself. Shannon tells Heather to stop being condescending and that she's angry that Heather told Tamra to choose a side. 
Eventually Tamra steers the conversation back to the gym thing and Heather maintains her innocence. Tamra can't answer straight when Heather asks if Tamra thinks Heather would ever hurt her or lie to her. It's ugly. Minus 12.
Terry is brought in and after Tamra storms out of the room, Heather "gets a phone call." Vicki says in a one-on-one that the phone never lit up and the call was faked. She and Terry leave to go home and take care of their "sick child."
Tamra continues telling Danielle that she's mad when Heather comes up to tell her she's leaving. Heather tells her that she loves her but doesn't like her very much right now. Tamra should know better.
Shannon commends Tamra for standing up to Heather. In the limo, Terry says he can't be responsible for how Tamra read his text messages. 
Vicki tells Tamra she was being too hard on Heather and that she's staying out of it. For once. Plus 10.
EPISODE TOTAL: -78 SEASON TOTAL: -327
Whose side are you on in the Good Day LA fight?
Miranda Wicker is a Staff Writer for TV Fanatic. Follow her on Twitter.