Well, that didn't take long.
Mere seconds into Sunday's True Blood Season 7 premiere, we lost one of the show's main characters.
Is Tara really done? How should we mourn her? Are you glad Sookie has coupled up with Alcide? Would you want Sam as your Mayor? And which vampire would you want as your protector?
Below, Round Table panelists, Carissa Pavlica, Chris O'Hara and Leigh Raines debate these questions and many more in relation to True Blood Season 7 Episode 1. Ready to join the discussion?!?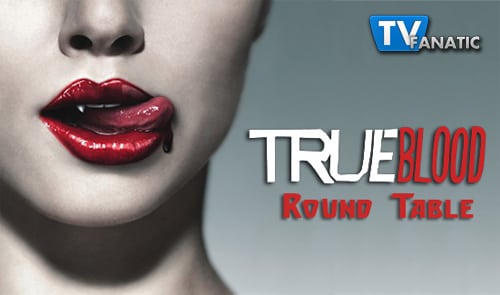 Tara is dead. REACT!
Chris: I am still not 100% sure she is dead, despite comments from Rutina Wesley. If she is, it was a crime the way she was killed off the show so unceremoniously. After all she's been through, she deserved better. If it is in fact true, an interesting theory out there is that her mother may have killed her. Still... we never saw any kind of reaction from Pam. As her Maker, she would have felt it. Unless, of course, she had previously released Tara, which I don't recall happening, despite numerous threats to do so.
Carissa: She was already dead. Now she's met the True Death. Thank God. Killing her the first time didn't really redeem the boring nature of Tara and they never fully explored what could have been between her and Pam. No offense, but in a limited season ending the series, let's get rid of empty luggage. Tara, check!
Leigh: I'm with Chris on this one, we never even saw the death. I'm skeptical. I feel like having her death offscreen was cheating us. She said in an interview that she went out in battle but we didn't even see that. Pam felt nothing. I would've preferred they killed Lettie Mae - I have LOATHED her since day one.
Will Pam find Eric?
Chris: Of course.
Carissa: She better. Or perhaps Eric will make his way home before Pam finds him. Perhaps their true arc is to realize their importance to each other and this will mean a future with the two of them filled with hot sex and snark. I can dig it.
Leigh: Yes. Eric is her maker and it doesn't matter if she was released, Pam is loyal as hell. She is definitely going to find him. I just have to wonder who initially saved him.
Are you glad Sookie is with Alcide?
Chris: I am, but even having the most badass werewolf on the planet as a boyfriend won't help her if she keeps taking walks alone at night in the dark. Seriously, Sook, haven't you learned by now?
Carissa: I was skeptical until their sex scene at the end. It was so sensual and you could tell they were "making love" and not just doing the deed. I'd take that kind of sex over Jason sex any day. Oh... glad. Yes. Yes! They have more chemistry than Sookie and Bill did and Eric is not for her. I'd be happy if they were together until the end... or True to the End, as it may be.
Leigh: Yes and no. I think they are really great together and I love Alcide. He can protect her, give her kids, go out in the sunlight and give her a real life. However, I personally feel like there is something missing there and I feel like it always comes back to Bill.
Would you vote Sam for Mayor?
Chris: For sure. In addition to be a dog lover, I think Sam is a great choice, certainly as good as any those days down there. He's a self made man, a local business owner and a fixture in the community.
Carissa: He runs the only restaurant/bar in town, he's trustworthy and cute. Food, booze, trust and looks. That's all you need for politics, right? Check, check, check, check!
Leigh: Absolutely. He ran the main institution in town and he has devoted himself to protecting the residents whether they knew it or not. Hello! He saved them all from a Maenad in True Blood Season 2! That was Sam kicking ass.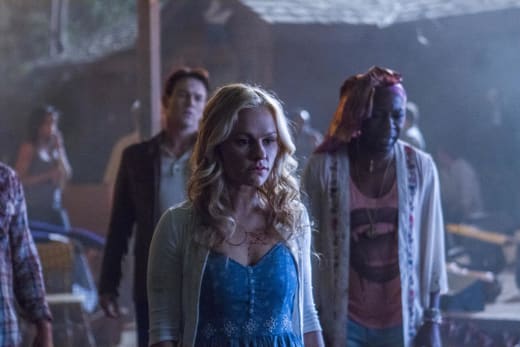 You're a human. Which vampire would you want to serve as your protector?
Chris: Common sense calling the shots, I'd have to go with Eric or Bill. That is, if they were really going to be on the ball and present. My inner Stackhouse however, would want Jessica. If I had to let anyone feed on me in return for their protection, it would be the amazing Ms. Hamby
Carissa: Jessica. Not even a hesitation there. Well, if Eric and Pam were around, I might consider them, but as they're not interested in looking after humans, Jessica wins without competition. The way she stood guard over Adilyn was so groovy and then she wanted to eat her. She stopped herself, sheesh! I'm not a faerie, so I'm good. Jessica is strong, loyal and sexy. What else could you want in your own personal vampire?
Leigh: Nobody is as badass as Eric. Remember him sneaking in an out of vamp camp last season? He is smart and can get shit done. Also wouldn't mind the newbie aka Jackson from The Originals. Hawt.