Covert Affairs Review: To Trust or Not

Carla Day at . Updated at .
Trust is a rarity in the spy world, but it's also a necessity.
As much as Annie believes she can do the job alone, she continually needs to trust others to protect herself and to succeed. That was never more apparent than on Covert Affairs Season 5 Episode 6.
Trust the right person and they will save your life. Trust the wrong person and it could lead to a compromised investigation, a lost job or even death. On "Embassy Row," trust was both earned and misplaced.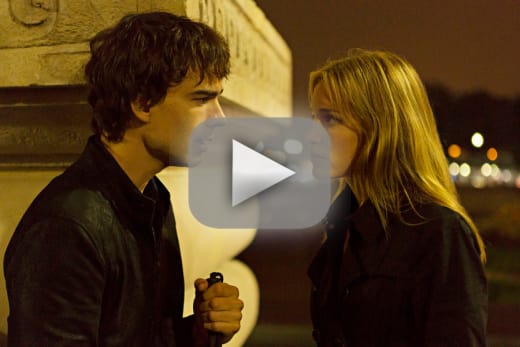 After Annie's betrayal of Auggie in Paris, she fixed her relationship with him by making it right with Natasha. They mended their relationship and the brief break in trust ended. When she needed him to support her in the field, he made sure his team protected her cover and the mission.
Joan and Arthur have a strong relationship and even they can have moments of distrust between them. It was heartening to see Joan come clean with Arthur about looking into his trip and his understanding of the situation. Their marriage is in a difficult place with the new job, yet they are determined to make it work. Joan's decision to go through McQuaid to hire Arthur was a good compromise.
In contrast, Annie and Auggie aren't in a romantic relationship, but he proved that she's really the number 1 woman in his life. He reconnected with Natasha and believes that he wants to be with her. If that was true, why would he compromise their fresh start by continuing to see Hayley?
Annie. 
Above all else, Auggie has a deep need to protect Annie even if it costs him happiness with Natasha. He claimed that he was protecting her, but I don't buy that. There's no indication that Hayley knows or would find out about Natasha. He may be protecting himself, Joan, and the department though, yet his motivation to continue seeing Hayley is based on the specific threat to Annie. That's a unique loyalty.
Since Annie and McQuaid met, they've been sniffing around each other to determine how much to trust the other. He's been much more open with her than she's been with him, even taking into account his secret conversation with Borz. In Paris, he even gave that up and more.
Even if Annie's not ready to trust McQuaid, they have a common goal and she should give working with him serious consideration. He's able to provide support that the CIA can't. With Arthur working on the case, that provides an "in" for McQuaid to help Annie as well.  A package deal!
Trust can also be misplaced. Hayley's misguided in providing investigation information to Auggie, Calder shouldn't trust his hooker lover and I'm not sure that Natasha should trust Auggie either. We'll have to see how all these situations play out, though I fear they are going to be used and abused.
Overall, I continue to enjoy the investigation of the Chicago bombing, though I'd like to see more progress on the investigation. With Ivan in custody, more insight should be coming. I'm not sure what to think about Auggie's unusual romantic complications other than it's going to be a challenge. The only storyline I intensely dislike right now is everything to do with Calder. Last season, he was strong, confident, and kick-ass. Now, not so much. It's sad. 
Which is your least favorite pairing?
Carla Day is a staff writer for TV Fanatic. Follow her on Twitter and on Google+.