Covert Affairs Review: Not an Island

Carla Day at . Updated at .
Annie headed out to find Borz, but she wasn't the only one. Ryan McQuaid was in pursuit too.
Covert Affairs Season 5 Episode 2 felt more like a transitional episode than one that had any real answers. It provided the first look at how Annie and McQuaid would work together or not while they both pursued Borz.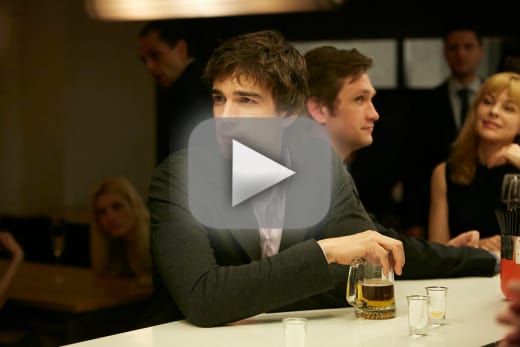 It was satisfying to see Annie back on the job again traveling to Venezuela on a mission. I'm a fan of the look and feel of Covert Affairs when the episodes are filmed on location. There was an intimacy to the hour following Annie on her quest that allowed me, as a viewer, to be right there with her.
Annie's health may be a problem for her, but she still has her wit. While she didn't trust McQuaid enough to work with him directly, she definitely saw value in his methods and took advantage of them. After he was able to get information out of Imam Shaib that she wasn't, Annie planted her phone on his vehicle.
Auggie tracked the signal and led Annie right to Borz where she ran into McQuaid and his men at the same time. What happened next showed the different methods used by McQuaid and Annie. While she went for the identity of Borz's contact, McQuaid was more conservative and didn't risk it. In the end, they both ended up in handcuffs and she had a lead.
McQuaid may not have been offering Annie a job in Covert Affairs Season 5 Episode 1, but after seeing her in action he tried to recruit her. Of course, Annie being the strong, independent and loyal CIA Officer that she is declined his offer. I was surprised, but then again not that surprised, that he left her behind. It would have been a good offering to help set her free, though that's not his style.
Annie didn't need his help though. She had her good looks and charm to sell herself as a desperate American in Venezuela for breast implant surgery. Piper Perabo is awesome at selling Annie's covers, so I wish we'd get to see her do it more often. In addition to the cover, she did get to showcase Annie's language skills, which is impeccable. 
By the end of the hour, Annie and McQuaid had developed a captivating chemistry together that's built out of independence and respect. Annie didn't want to work with him and didn't trust him with Borz, yet she let him in on her secret heart trouble. I've enjoyed watching Annie work with Auggie, Eyal, and others before, but none of her other partners have had quite the same engaging dynamic with her.
McQuaid's definitely remains a man of mystery. He had his one hour with Borz without revealing anything about it to Annie. Despite his secrecy, he earned Annie's trust at least temporarily since they are bringing Borz back together. Of course, that could be part of her plot to uncover McQuaid's real interest in Borz.
I'm loving this pair! At this point, the relationship between Annie and Auggie is business only. She hasn't revealed her medical condition to him and she lied to him as her handler. He's not going to take kindly to that deceit should he ever find out, plus he's certainly not waiting around for her.  Auggie's back to his womanizing days and sleeping with the enemy.
Any ideas about what McQuaid wanted to know from Borz? Is Arthur going to get himself in trouble by working with him? 
What kind of relationship do you want to see between Annie and Ryan?
Carla Day is a staff writer for TV Fanatic. Follow her on Twitter and on Google+.