Covert Affairs Review: Postman

Carla Day at . Updated at .
Annie and McQuaid are quite an entertaining pair.
They are both brilliant operatives, yet they have such different methods in the field.
On Covert Affairs Season 5 Episode 3, Annie used her expertise and saved them multiple times with her quick thinking and actions.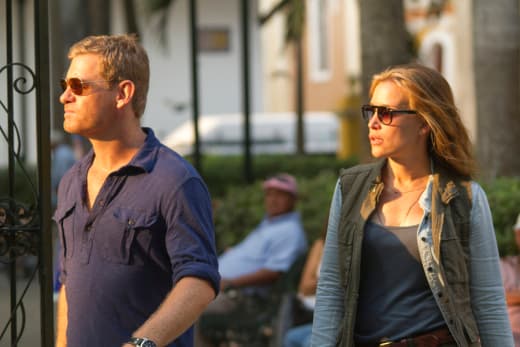 After tracking down Borz in Venezuela and capturing him, Annie and McQuaid attempted to get him out of the country by car. As Annie feared, the plan to use a flashy car and cash to cross the border was unsuccessful, instead it backfired and they were forced to go into hiding.
McQuaid rented a house they could use as a temporary hideout while Annie interrogated Borz for answers about the Chicago CIA office bombing. Borz's interrogation was brutal and consisted of unusual interrogation methods. Since Borz was injured, Annie used his pain to her advantage so she didn't have to torture him or add to his pain, but dangled pain medication in front of him for information.
When Borz didn't budge, Annie used Borz's sister as leverage by offering to help her in exchange for information. Borz didn't have much to share, but provided the name "Postman." That clue could be just what Annie needed to get to the bottom of who was behind the Chicago CIA office bombing. 
One of the best moments of the hour was when Annie let the police in to look around the house. She's great at manipulating people by getting them to see her as something she's not. In this case, she pretended she was getting into the shower and then let them believe they caught her hiding drugs. They dismissed her as a "Junkie whore." Nice job!
There wasn't much forward movement in the case during the hour. After everything, all Annie got was the name "Postman." McQuaid didn't share why he wanted an hour with Borz or what he learned, so there's still a chance that more could come out from this lead. With Borz dead, Annie and McQuaid got out of the country and headed home.
Their working relationship became closer as they learned how each other operated and they began to trust one another. McQuaid appeared to have more faith in Annie than she had in him, but then again, he's keeping secrets from her. He commended her on lying to Borz for leverage which helped.
Annie and McQuaid have an odd dynamic with each other, which I find surprisingly engaging to watch. It's different and has provided unexpected results. I don't know what they are going to do next, which makes it fun. McQuaid's gift to Annie was a nice peace offering and present. I can't wait for them to work together again.
Annie and Auggie ... what? I can't even image them together right now. It's weird to think they were a couple just last season. He's moved on with Hayley and Annie's off doing her thing. While I don't want to see them romantically involved right now, I would like to see them working together more.
With Auggie's help identifying the "Postman" through his contact Roger, we should see them collaborating more again. Though, it looks like Roger is in for some hurt since he's being followed and watched by someone. Is it the "Postman"? Or someone else? It's not clear, but he's paranoia is likely warranted.
The others in Washington struggle to adapt to their new reality. Calder's not thrilled with his promotion and the emphasis on politics and paperwork. He confided a little about his troubles to his lover, who is actually a prostitute. No wonder he wants her to use a private phone. That relationship could end his career.
Meanwhile, Joan and Arthur worked together with McQuaid's second in command to bring Annie and Ryan home. It's weird to see Arthur and Joan in their new roles. It's only a matter of time before they are forced to work against each other.
The highlight of the episode was watching Annie and McQuaid work together to get out of Venezuela. The location shoots helped make it feel authentic and I feared for their safety throughout the hour. The happenings in Washington were secondary. 
Auggie and Hayley: Yay or Nay?
Carla Day is a staff writer for TV Fanatic. Follow her on Twitter and on Google+.