Perception Review: Gone Baby Gone

Sean McKenna at . Updated at .
Got babies on the brain?
I'm always a bit apprehensive when it comes to baby-focused episodes because they can turn overly cheesy as the lead character often ends up having to take care of the kid, with unfortunate yet endearing mishaps along the way.
And yet, Perception Season 3 Episode 6 was able to touch upon the characters own thoughts on children, delve into a murder that kept me guessing and introduce me to the (strange?) concept of reborn dolls.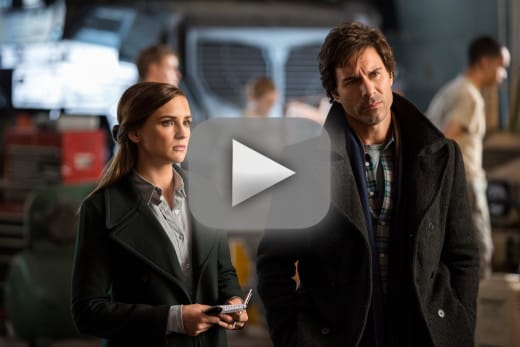 I had a feeling that the the infant reported missing wasn't real, but I wasn't prepared for the lifelike appearance of such a doll. So of course I had to look it up online (something Perception always ends up getting me to do) and it's kind of wild that these reborn babies are a real thing.
I guess it's not truly a surprise that someone who lost their child would use that as way to help them grieve etc., but it still felt like a concept that was tough to grasp. To watch these people become so attached to an inanimate object like it was a living breathing being just seemed odd. But I've never lost a child, and exactly like Daniel's opening lecture explained, if caring for the doll gets the so-called job done for that person, does it really matter if it's not real?
But wow are there some truly lifelike dolls out there.
So it was interesting that with the added murder to the story, there was a decent intertwining of mysteries that included the actual baby, Owen, and the missing doll.
Plus, it was good to still be trying to figure the case out along with Daniel more than half way into the episode. Even if I didn't have an imaginary baby or pregnant Natalie guiding me to the actual truth on both fronts.
I liked that the mother's concern for hurting her own child reflected Daniel's concerns for having a kid of his own, something that hasn't really been brought up before. Sure, we've gotten glimpses into Daniel trying to have a relationship and the pitfalls that surround that, but it doesn't mean that he can't end up finding someone that doesn't just see his schizophrenia as a burden and is able to love and care for him. And similarly, Daniel could also wind up being a great father.
Maybe that's just down the road a bit. You know, baby steps.
At the same time, it feels like Kate and Donnie's relationship is about to get really rocky. All of his talk about dream homes and kids has really put Kate on edge and rather distant. It was tough feeling the love that seemed to put them on the fast track to marriage.
While Daniel coaxed her into to telling Donnie the truth about maybe not wanting kids, she didn't quite get there all the way. Even with an "I love you" at the end, I'm not so sure their new engagement/marriage is going to last. It's going to be tough to keep things going if the two of them don't want the same things.
This was another decent hour of Perception, especially coming off the heels of the devilishly fun Perception Season 3 Episode 4 and the well-done tragic Perception Season 3 Episode 5. Looks like Perception Season 3 is turning it up a notch, and I can only hope it keeps on its positive path.
Is Donnie and Kate's relationship doomed?
Sean McKenna was a TV Fanatic Staff Writer. He retired in May of 2017. Follow him on Twitter.