Chris Diaz slipped further down the rabbit hole on Rookie Blue Season 5 Episode 5, as his drug use nearly ruined his career.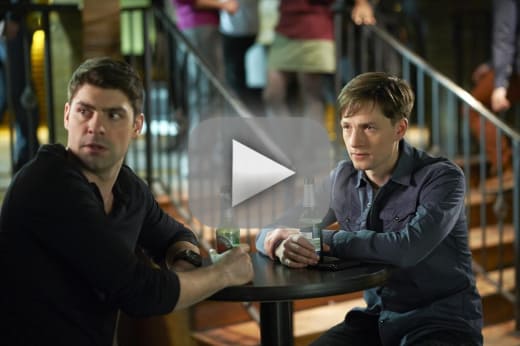 Dov told his friend and partner that he looked like something the cat dug up - but I think his dealer put it best in this Rookie Blue quote when he told Chris he was starting to wear the look of his best customer.
It's kind of like a twitchy porn star who just ran a marathon.

Dealer
Yeah, Diaz is in it deep and now he has a dealer who knows he's a cop and plans to use him like a permanent Get Out of Jail Free card. Chris' slippery slope just spiraled out of control. 
Andy was such a goof as she asked Steve if she was the eye candy in this operation or Hello, I'm Candy. 
I had the feeling that Duncan wouldn't go away quietly, but doesn't it look even worse for the Police Commissioner to have his step-son sue the department?
Andy's need to play nice is about to come back and bite her as she failed to put most of Duncan's ridiculous behavior in her reports. That's a rookie mistake she won't ever repeat. 
At least Sam was there to lift her spirits and offer her a case to work on…
Andy: Is this the workplace equivalent of pity sex.
Sam: Yeah, pretty much.
Andy: OK, I'll take it.
I can't believe that Sam would rather go dog sledding than spend a vacation on the beach with a fruity drink. That entire conversation showed how much Andy is stressing over every tiny detail of their relationship before they move forward.
Thankfully, there are other more pleasant details she seems to recall as well…
Sam: I do speak fluent Spanish. You know that right?
Andy: Oh, I am aware. I just thought that was reserved for when you were naked.
Speaking of which, how many episodes will we have to wait to see these two get naked with one another yet again? Please don't tell me it's more than half the season because this will they/won't they thing is going to get boring really fast.
Despite their relationship limbo, Sam and Andy certainly work well together. Looks like the dead guy never made it to sunny Costa Rica. Now they'll have to figure out who the creepy man was pretending to want to buy his car.
Moving on to another couple who works well together, it was fun watching Traci and Steve critique Nick's game as he flirted with the bartender. I loved getting the male and female perspective on the different lines they both used.
Unfortunately for Nick, a possible date turned into a collar. At least he won't regret that in the morning, but once again, I really want Nick to find someone. The guy is far too nice, too smart and too darn cute to keep going home alone.
Finally there was Gail. Chloe might not be her best friend but at least she could see that Gail needed help and went to the right person.
I love Oliver and the change in role at 15 Division suits him. It's like he's the momma bird looking out for all his little chicks. He can be the guy who rides you and tells you to get your damn report on his desk in an hour but he can also empathize when the job becomes too much. I just hope that this is as bad as things get for Gail.
So you tell me, TV Fanatics, which vacation would you choose, Sam or Andy's?
C. Orlando is a TV Fanatic Staff Writer. Follow her on Twitter.