The Bridge Review: Reunited

Carla Day at . Updated at .
Sonya and Marco are back together again!
While they have grown to work well together, it will be more difficult this time since Marco has a hidden agenda. Will Sonya be able to help turn Marco around and return him to the righteous officer he once was?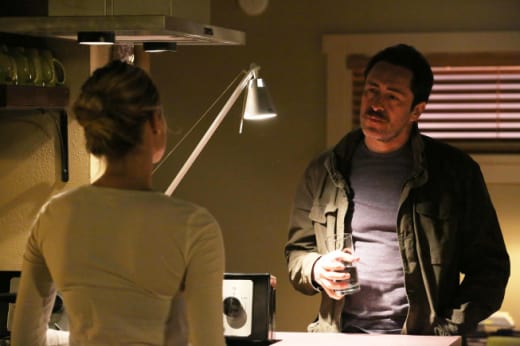 There was a lot happening on The Bridge Season 2 Episode 2, but it was never too much. Sonya and Marco both continued to deal with their personal tragedies, though it affected their work life in different ways. Marco stood up for himself and gave a fellow officer a beat down to prove a point. Marco's life blew up, but he knew he did the right thing at work.
Sonya is Sonya. While Hank is concerned about her sexual encounter with Jack Dobbs, she's already over it. She may be fixated on her sister's killer, but that hasn't transferred to his brother. The biggest moment regarding this was when Jack mentioned that Hank knew what really happened in the hotel room. Is there more to Lisa's murder? Intrigue!
The heart of the hour was spent identifying the dead man from the car and following the trail of evidence. Hank and Sonya's investigation was interrupted by the DEA who came calling after seeing the report about the taxidermy dog. It was their dog and the owner was missing. One body turned into two.
The pace of the investigation was perfectly quick at times, while other clues provided insight and not much else yet. The man in the car was Fausto's enforcer, Garza. The DEA left that to the police department to investigate, while they took over the death of their undercover agent.
Both deaths tie back to Eleanor. She's one crazy tattooed lady. I knew she was going to kill Kyle, but really hoped she wouldn't until that last moment when the knife slid into him. How did he not see it coming? There was plastic on the floor! Okay, maybe the sexual desires of the teenager took over. Given her obsession with details, there was no way she'd leave a loose end like Kyle or his friend. 
I'm enjoying the various parties at play in The Bridge Season 2. The key for each of them is Eleanor and they want her for different reasons. The DEA and Sonya want to put Fausto behind bars, but will the secrets and Marco's potential interference threaten their success? Likely.
Daniel and Adriana's investigation is little less interesting and more confusing. It's disappointing to see the murders distracting Sonya and Marco from the search for the missing Juarez women, though at least the reporters are pursuing that case. It wouldn't be unexpected for the two investigations to cross paths, since they are both tied to Fausto's missing money. 
The reporters are tracking the money and the cops are tracking the accountant who is tracking the money. Complicated, but so far there hasn't been a boring moment.
One odd shift this season is that I'm not concerned for Sonya at all. She's proven she can handle herself and her issue, on the other hand, Marco is a mess and he's on the verge of sacrificing his integrity by helping Fausto. He hasn't crossed the line yet, but it's only a matter of time before he'll be tempted to honor his promise. 
Marco has a long familial bond with Fausto and he's crossed the border with the permission of Captain Robles. He's walking a dangerous path towards losing himself and hurting his friend.
Will Marco work against Sonya and the Americans?
Carla Day is a staff writer for TV Fanatic. Follow her on Twitter and on Google+.