The Bridge Review: Butterflies

Carla Day at . Updated at .
Eleanor Nacht and the search for her has been the most interesting aspect of The Bridge Season 2. 
Sonya and the Americans are looking for Eleanor in order to use her against Fausto, while the cartel leader has convinced Marco to find her to help him. Given their past connection, neither Sonya nor Hank have any reason to doubt Marco's loyalty to them. Even though Marco has a secret assignment from Captain Robles on behalf of Fausto, he hasn't acted against the Americans ... yet.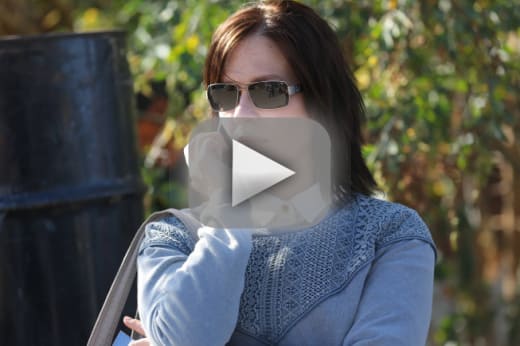 Eleanor continued to amaze during The Bridge Season 2 Episode 3. A simple trip to a thrift store provide more insight into her crazy character than should have been possible. She's freaky, yet oddly charismatic. Whether she was convincing the saleswoman to let her go into the dressing room without assistance or hiring a day worker, she's rigid and charming at the same time.
I held out hope that she didn't kill Kyle. That wasn't to be, but she did let Dex live. Kyle's sexual attraction to her allowed Eleanor to see him as a man, while Dex peeing on himself showed him to still be a kid. Eleanor does have boundaries and it appeared that killing a child was over the line.
She left Dex alive and gave him the clue that led the police to Kyle. At this point, it wasn't clear if she made a mistake in telling him about the butterflies or if she wanted Kyle to be found. I lean towards it being a mistake. If she wanted Kyle to be found, she wouldn't have needed to hire the day worker to help with the blue container. She could have left Kyle in the storage unit.
Plus, Eleanor watched as the police found Kyle's body and processed the crime scene. If she didn't expect them to find it, why would she have stuck around and watched? No matter what, her story has been unexpected. She's avoiding going back to Juarez and Fausto for some reason.
Elsewhere, the story hasn't been quite as engaging, yet remains mysterious. Ray and Cesar reappeared when they were ambushed and lost a drug shipment. Ray wanted to run, while Cesar felt sticking around was the best option. I'm not sure how they will play into the bigger picture of the season. Since they are involved with Fausto, Eleanor could end up involved with them too.
Linder and Eva were reunited and a Juarez cop found the camp. In the long run that could be dangerous for them, but again we'll have to wait and see what happens next. There's a lot going on and eventually the stories should intersect.
Since across the board, the cops and others have trouble believing the cartel would have a woman in a top position, Eleanor's positioned to remain a wild card. 
Is Eleanor crazy?
Carla Day is a staff writer for TV Fanatic. Follow her on Twitter and on Google+.