Covert Affairs Review: Trust Earned and Trust Betrayed

Carla Day at . Updated at .
Annie still hasn't caught the people behind the Chicago bombing, though she got much closer than she's ever been by the end of Covert Affairs Season 5 Episode 10.
Through all the leads, Annie, McQuaid and the CIA are finally on the right path for finding the people actually responsible for the bombing. They are really good at their job, yet they were led astray by people who were just as good. It's easy to go down the wrong path, when being pushed there unwittingly.
No more. Annie knows her target and certainly will be going after Belenko with no holds barred.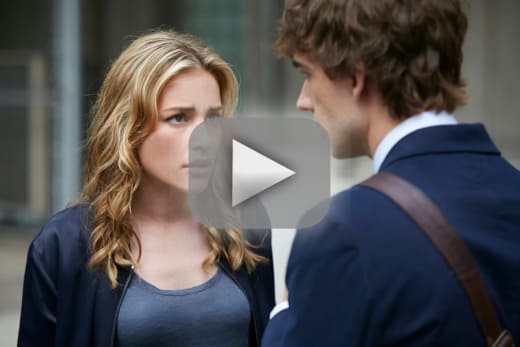 When Annie let Ryan leave her place the end of Covert Affairs Season 5 Episode 9,  I wasn't confident that he was innocent, but I believed in Annie's instincts. Plus, the evidence against Ryan felt more planted than stupidly left behind to be found. When her freedom was on the line, she stuck by him and proved her intuition right.
It was uncomfortable to see Annie and Auggie at odds though. She had the best intentions by lying to him repeatedly, but she still lied. How is he supposed to trust her going forward? She may have kept the truth from him, but the motivations behind them are exactly why he should still trust her. She knows when she needs to loop him in and when she doesn't. That's what trust is all about, right? At least between spies!
The hour itself was suspenseful with allegiances constantly being questioned and tested, while the truth was slowly revealed. I only have one plot complaint and that's with the tracker that Caitlyn put in Ryan's computer. She knew him better than anyone. Did she really think he wouldn't check for a tracking device? Even if he trusted her, it was likely he'd check to make sure the CIA or FBI didn't bug the device.
Or, Caitlyn could have been so arrogant and self-assured that her plan would work that she never considered Ryan would doubt her or the computer. Let's go with that explanation. Caitlyn's betrayal tore into Ryan's soul, but the result was it opened him up like never before. 
He was free to do what needed to be done. Well, after getting hot and heavy with Annie, of course. The chemistry between those two is hotter than steamy if that's even possible. The revelation about Ryan's wife humanized him in a way that makes Ryan and Annie even more perfect for each other. They are both fierce, focused on work, recovering from loss and let's not forget -- sexy!
Sorry, Walkerson fans. Annie and Ryan are much better suited for each other romantically than Annie and Auggie ever were. Annie needs someone by her side unconditionally and that's definitely Auggie, though they are better off as confidants than as lovers. That's not to discount their time together. It was necessary for them to move forward in a platonic trusting relationship. Maybe they will end up together when they get out of the business. For now, it's not their time.
Going forward, Annie has more to worry about than her love life. I didn't think it was possible for her to be more determined to find those behind the Chicago bombing than she already was, yet she is. She wants Belenko and nothing will stop her. He better watch his back because she's coming after him. By leaving the United States, he just made it easier for her to pursue him without constraints.
It's not over yet. Even though, Belenko and Caitlyn were behind the Chicago bombing, the motive is still unknown. And who were they targeting in the motorcade? There's no specific evidence that points to an answer, but I have a guess. It all ties back to the secret that Joan is keeping about the Balkans. 
Belenko told someone on the phone the their plans for Istanbul were still on and that's in the Balkans. Barely, but the city is considered in the Balkans. Could the target have been Arthur? He was recruited into McQuaid Securities. Caitlin could have easily have had a part in his hiring....
There are six more episodes of Covert Affairs Season 5 coming this Fall to resolve the mystery. Belenko should watch out, he's no Henry Wilcox and we know how his life came to an end.
Any theories on the connection between the Chicago bombing and the motorcade attack? Why are the Russians involved? Are you still enjoying this season long investigation?
Was Arthur the target?
Carla Day is a staff writer for TV Fanatic. Follow her on Twitter and on Google+.