First, the best news of the week: Outlander renewed for a second season.
Considering the first episode was sampled by a great many people, no big surprise... but still always good to hear, right? Bravo, team Outlander!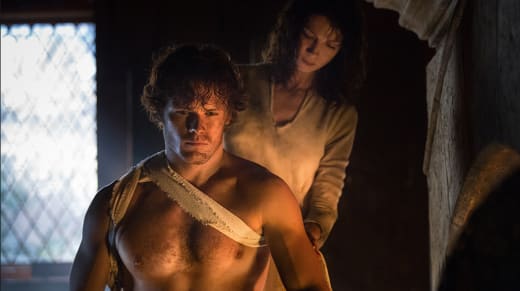 My only somewhat negative comment about Outlander Season 1 Episode 1 is that I would've liked to have gotten to the past faster than we did (so we could get to Jamie), but the second episode quelled that concern.
Outlander Season 2 Episode 2 is rooted firmly in the past. No going back and forth, outside of a few flashbacks that inform some of Claire's thinking and decisions about surviving in this new time and space.
Overall, just as Claire gets pulled in deeper into this new world, so do we. And it looks to be a place we're going to be fine hanging out in for awhile...or, in Claire's case, for a long time!
We pick up where we left off and we've just arrived at the Castle Leoch. The group is welcomed by the deliciously fun Mrs. Fitz (Annette Badland). Even the way she first says Claire's name is fabulous, but -  like everyone else here - they're not quite sure what to make of our time traveler but Mrs. Fitz will be an ally for sure.
In a series like that, I always love waiting for who our main character is going to connect with and who she's going to clash with. We get the start of all those relationships in this episode.
HOWEVER, thinking just how much the audience will appreciate it, Claire's first order of business is to get Jamie out of his clothes and tend to his wounds. Okay, it's just his shirt. So calm down. But, yeah, truth be told, Jamie's torso is worth getting excited over. As an added bonus, though, this is also a terrifically informative scene about the young man.
Backstory alert! Claire sees the massive scars that cover Jamie's back and he explains that he was flogged twice within a week at Fort William. We flash back to Jamie's earlier interaction with Randall when the Red Coats came to his village and, after fighting a few of them off for accosting his sister, Jenny, Randall reveals just how vicious he can be by ripping Jenny's blouse and forcing Jamie to look at her exposed breasts.
Then, because he can, Randall flogs Jamie but good... until Jamie is knocked cold. Claire is clearly moved by this story and feels for the young man. (No, not those kind of feels! Well, maybe a little…)
You're a kind woman. With a good touch. And your husband is a lucky man.

Jamie to Claire
With that reminder of her husband, we and Claire are reminded she is technically married and we see a moment (either Claire's imagination or the real moment, we're not sure) where Frank finds the abandoned car from the spot near the stones where Claire disappeared.
Jamie asks a now-crying Claire about her husband and she says that Frank is not alive. He comforts her and, again, there's a gentle, lovely connection between the two. Yes, there's an obvious physical attraction but one of the reasons their relationship works is it's not merely about physical attraction. And when Jamie vows to protect Claire…did anyone else swoon?
The next morning and Claire is woken up by Mrs. Fitz, who dresses her, taking a moment to be surprised at Claire's undergarments. Claire looks at herself in her 'new' clothes and, ya know, she looks pretty damn good; though I suspect Caitriona Balfe could make anything look amazing.
What kind of corset is that?!

Mrs. Fitz
Claire realizes she doesn't know when she is and finds a document in Colum MacKenzie's office that says it's 1743. She meets Colum – Dougal's brother - and the visual of MacKenzie's legs are captured perfectly from the book. (Claire will inform us later of his condition)
As Colum questions her, Claire remembers Frank telling her, basically, how to lie effectively during interrogation and to stick to the truth, to only alter the details that need to be kept secret.
Claire explains (truthfully) that she was attacked by Jack Randall, who tried to rape her. Colum reminds her she's talking about a member of the King's army, a gentleman. (Yes, there was a time where if you were a gentleman and in the King's service, you had free reign to help yourself to pretty much anything including your occasional sexy time traveler.)
Is there ever a good reason for rape, Master MacKenzie?

Claire to Colum
Colum promises Claire she'll be taken to Inverness in five days' time. Claire believes she's going to be able to get back to the stones that somehow brought her to this time and get her back to her life. (Do we think that's going to happen anytime soon?)
Later, it's meal time, and Claire sits at the main table with the MacKenzies. (I suspect it's a 'keep your [potential] enemies closer' kind of thing, don't you?) There's some mild questioning of Claire regarding where she's come from but Claire holds her own…though she doesn't hold the liquor as well when Colum continues to fill her glass.
The hope here, of course, is she'll loosen up enough and slip in her story but obviously these people don't know our sharp-as-a-whip Claire can hold her drink!
One subtle but nice moment is when Claire's mistake a young boy, Hamish, as Dougal's son because saw Dougal playing with him earlier in a fatherly fashion. But, oops, Hamish is Colum's son and Claire realizes she's made a boo-boo because, one, Colum's legs probably prevent him from much physical play time with his son and, two, we see bits of strife between the two brothers. Family drama!
The next day, Claire wakes and, like all of us, her mind is on Jamie.
She finds the young lad working at the stables. They sit and he further explains more of his backstory of how he's wanted for murder, even though he didn't kill anyone. He's been on the run for four years. Colum and Dougal also both know Jamie's story but they are uncles to Jaime so there's that family thing again.
But why did he tell Claire? She asked, he says.
I decided to trust you instead.

Jamie to Claire
Claire realizes she's being followed throughout her day and she asks Dougal. He tells her that he thinks she's a spy. He knows she hasn't been truthful and wants to find out why. She also tells him that Colum has promised her that she's leaving in a few days. Uh-oh…me thinks Dougal is going to get in the way of that!
We see Claire getting used to her environment. She's able to dress herself in the timely clothing and is able to explore the mushrooms and plant life…which is where she meets Geiless (Lotte Verbeek), who will become a friend and actually help her in getting more acclimated to her new environment.
Geiless also says that some think she's a witch because she has some of her own natural remedies and potions for helping people.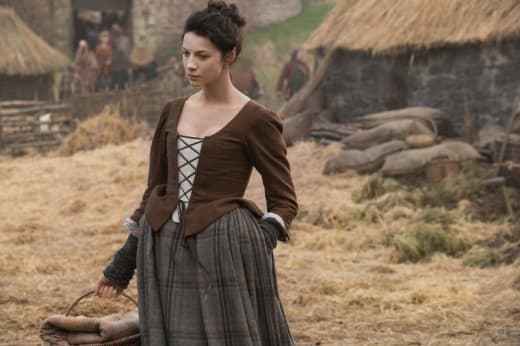 Named for its most famous sufferer, Toulouse-Lautrec syndrome is a degenerative disease of both bone and tissue. Claire tells us Lautrec died at 38 so Colum must be living on borrowed time. (Trivia: John Leguizamo played Lautrec in the movie Moulin Rouge)
Later, as the people of the village address Colum, a father brings his daughter forward to Colum and wants her to be punished for 'loose behavior.' We hear him talk in Gaelic but Geiless translates for us and Claire. (Ron Moore said during the Comic Con panel he wanted the audience to hear Gaelic and, like Claire, we have to be told what it means. No subtitles).
Just as the young hussy accused young lady is about to be taken away, the valiant Jamie steps forward and says he will take the girl's punishment. He even chooses fists over lashes. Makes you like him more, doesn't it?
Already injured from wounds during the travel, Jamie takes many a punch, but holds strong. We know from the way Dougal is watching the punishment that he's behind this, even having Jamie punched in his already-injured shoulder. Why is Dougal doing this?
Jamie has never pledged his allegiance formally to the MacKenzie clan, perhaps, and his presence as an outlaw also puts everyone at risk to some degree. Regardless, Jamie takes every punch and still manages to bow to Colum.
Claire tends to Jamie…again! Why did Jamie take the girl's punishment? He says he doesn't really know her but the punishment would be easier to Jamie. And we find out that Laoghaire, the young girl, is Mrs. Fitz's granddaughter so she's even more grateful for Jamie's actions.
It's easier for me. I'm sore but I'm already damaged. I'll get over it in a couple of days.

Jamie
Claire tells Jamie she's leaving the next day with Mr. Petrie and they say goodbye. Laoghaire shows up and Claire basically encourages him to see her. We don't see what happens but we'll find out later so be patient.
Claire thanks Mrs. Fitz and they embrace. However, Dougal shows up and says Colum wants to see her. This can't be good, can it?
Claire knows where they're headed and we see the moment in the 1940s when Claire and Frank entered the room in the Castle. Dougal and Colum talk to Claire and, due to her medical prowess, they are going to have her stay and help take care of the people.
He admits he knows she has some secrets and maybe they're harmless but until he knows for sure, she's going to stay there as Colum's 'guest.' Prisoner, he means? Only if she tries to escape.
Claire: But I'm leaving.
Colum: No. You're staying.
She looks around the quarters and finally lets down her guard and looks truly lost, without much hope. But the good news is that we have hope that this is turning into one hell of a yarn. I'm even more hooked that before. You?
What did you think of the second installment of Outlander? What worked? What didn't? Let's discuss below!
Jim Halterman is the West Coast Editor of TV Fanatic and the owner of JimHalterman.com. Follow him on Twitter.