Perception Review: Sex, Lies and Murder

Sean McKenna at . Updated at .
The Perception Season 3 summer finale was no ordinary case of the week all while providing some major shockers to start and close the hour.

And while we've seen the Donnie and Kate relationship hit some rocky waters over the course of the season, Perception Season 3 Episode 10 was where it all seemed to come to a head for the two.
But I was truly surprised to find the recent flirty and attractive Shelby dead with Donnie as the lead suspect. Right at the top of the hour no less.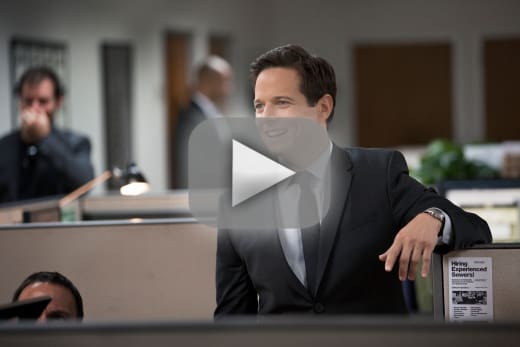 Because if there's one thing that was bound to happen, it was going to be another discussion about infidelity. But murder?
That's definitely not the predicament anyone would want to be in after being drugged, waking up to have no clue where you are with a half naked woman in bed with you. Oh, and she happens to be dead.
I felt bad for Donnie who was not only trying to clear his name but prove he didn't have an affair with Shelby.
Donnie's always come across as the nice charming guy who gets his man in court. But to give Scott Wolf a chance to portray Donnie in a desperate situation trying to convince Kate and the police of his innocence was a nice change. There was some great impassioned speeches from the guy, and even with his past occurrences, I wanted to believe him.
And I can only imagine how he must have felt getting sent to prison to get a major beating.
The chips were stacked against him, and even Daniel was trying not to jump to conclusions even if they seemed like the ones to go to.
But I liked that even with the unanswered truth surrounding Shelby and her death, both Daniel and Kate didn't disassociate with him.
I could certainly understand Kate's jumping to conclusions and accusing Donnie, especially after Daniel's comments and the jealous cop's. She was tough when she needed to be and emotionally open about her relationship, but this was the case that was truly personal.
Thankfully, Daniel was able to figure it all out (good thing he got some help from his hallucination cop) and clear not only Donnie's name from the murder, but ultimately from any affair. Loving neighbors, sex scandals and dirty politics couldn't keep Daniel from putting all the pieces together.
But like Daniel's lecture about not getting a do-over, the damage was really already done.
Kate didn't have Donnie's back (even though I get her assumptions), but it's hard to imagine these two being able to survive as something more than work partners. That history and the present situation has been stacked together in a way that just feels like it needs to topple.
Because even though I like Kate and Donnie, and I've enjoyed their chemistry together, I'm just not sure they are going to work out. And they seem even further apart than before. It was kind of sad watching them sit far apart on the couch at the end.
Of course, I loved the return of Peter Coyote as Daniel's father. It added some much needed light-heartedness to the hour, and seeing the Pierces butt heads, Daniel try not to eye roll at certain things and the general conversations of Daniel's father having sex was funny to watch.
Plus, it was good to see Will Smith and Tommy Lee Jones visit.
But I thought Daniel helping out his dad and going to the house of the supposed mobster seemed like an interesting last request for the hour. I wasn't quite sure what to expect as things seemed to be wrapping up.
But boy was Eric McCormack right in our recent chat when he said there would be a shocking cliffhanger.
An exploding house!? That's not at all what I was expecting.
Daniel can't be dead, sure, but now I want to know what Daniel and Kate were innocently getting themselves into. Let's hope there is some good payoff when the show returns in February.
This was a solid and engrossing hour that got personal from the case to the side stuff with Daniel's father. And it really shifted gears for Donnie and Kate towards an even more uncertain future, right before trying something new with an explosive last minute twist.
It certainly filled out TNT's new mantra of "Boom" for its summer finale. Perception Season 3 is on a roll.
Did you think Donnie cheated on Kate with Shelby?
Sean McKenna was a TV Fanatic Staff Writer. He retired in May of 2017. Follow him on Twitter.