Staff Sergeant Oliver Shaw carried the weight of 15 Division on his shoulders and probably felt like he made a "Deal With the Devil" on Rookie Blue Season 5 Episode 7. 
My question is, will the people he helped ever understand what he did for them?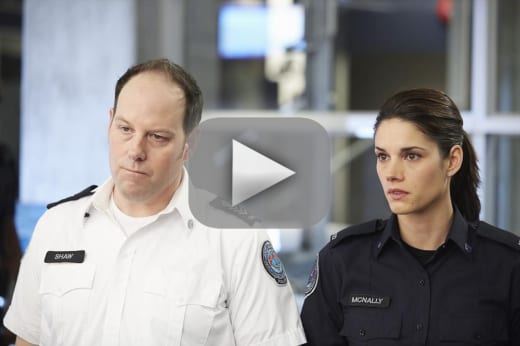 Poor Oliver had quite a day. His ex-wife dumped his semi-delinquent daughter on him at work just as he had to face off with Duncan Moore and his attorney. Then Andy dropped her bombshell.
I know Andy thought she had a couple more weeks, but why would she wait to tell Oliver about fudging Duncan's performance reviews? She was relying on Ollie to get her through this. Why not give him all the information from the beginning?
I could understand writing Satisfactory with Room for Improvement on the first couple of reports, but not all of them. They guy was a complete screw up. But I suppose Andy felt that Duncan failing was a reflection on her and she desperately wanted him to succeed. 
Speaking of Duncan, even if he gets his job back, who is ever going to want to work with this guy? Who will be willing to put their life on the line with a guy who turned tail and ran when his partner was in trouble?
Obviously Duncan was lying about Andy seeking him out at the Penny. It's not as though she was the one who had the recorder ready. Knowing that Duncan was fighting his dismissal, Andy was either stupid or naive when she spoke to him. Now it's come back to bite her... and Oliver. 
On the upside, at least Shaw can afford to send his daughter to an art school on a Staff Sargeant's salary. Unfortunately, now he really needs to talk to Celery about her fertility rituals. I'll be surprised if that's not the end of their relationship. 
The only McSwarek scene was when Sam offered to play an awful game of basketball to make Andy feel better. I can think of better ways to accomplish that goal but to each his own. 
Sam and Traci's case was only mildly interesting. The thumb in the trash turned out to be the catalyst to bring Gail and Holli face to face once again. I really wasn't expecting Gail to try to make amends and get back together as she told Holli in this Rookie Blue quote…
I don't want to end up a sad, sorry woman who threw away the most wonderful woman she's ever met.

Gail
Unfortunately it may turn out to be a case of too little, too late but I hope not. I really liked these two together.
Chris no-showed at work and Dov did his best to cover for his friend, but Dov is no fool. He knows something hasn't been right with Chris for a while and an inspection of his truck uncovered the drugs.
I loved the scene where Dov walks into the apartment and sees Chris because it's like he's seeing him with new eyes. He'd probably not noticed Chris being high in the past because it never seemed like something that was possible. Now that the veil has been lifted, nothing will ever be the same…
Chris: It's not like I'm some junkie criminal.
Dov: No, you're a cop.

How can Dov allow a junkie to put on the uniform and carry a gun? Something tells me things are going to get worse before they get better. 
The last of the day's casualties was Chloe. Not only did she have to slosh through garbage and find a severed thumb (at least it wasn't a penis!) on her birthday but her boyfriend ditched her. And then she got the perfect gift…from Wes. Ugh. There's nothing worse than getting the right gift from the wrong guy. 
What do you think, TV Fanatics. Should Dov turn Chris in?
C. Orlando is a TV Fanatic Staff Writer. Follow her on Twitter.