Is that all they got? Did the True Blood team give it their all in the final season? What about historic moments from the series' seven seasons? That's what we're all about, right here, right now.
Below, Leigh Raines, Chris O'Hara and Carissa Pavlica - as well as Liz Henderson of Nice Girls TV - gather for a round table that blows past True Blood Season 7 Episode 9 and hones in on the scope of the series as a whole, along how True Blood Season 7 stacks up against the past.
Join in below!
----------------------------------------------------
Who is your favorite True Blood character in history?
Leigh: In the spirit of us not all choosing Eric Northman (though I am still laughing at his scene with Ginger and the 90s soundtrack) I will choose Lafayette. Lafa has kept it interesting and entertaining for 7 seasons and he always brought the laughs. May he and James live happily ever after.
Chris: Has to be Eric. No other character has embodied the history of vampire like he has. After the lid came off the coffin and they went mainstream, he has been the most entertaining to watch interact with humans and when it has come time to flex some muscle no one has done so with the same flare as our resident Viking.
Liz: Favorite True Blood character in history has to be Sookie. She was the hero in the whole story. She overcame situations and issues that most around her could not, with the exception of maybe Arlene. She's a survivor and a brave soul, even when she didn't want to be.
Carissa: It's Eric, but since he's widely praised here I'll give a shout to my second favorite, Jessica. When she was turned I groaned. Years later and because of her we get one of the most moving moments in Bill's history when he released her. She greatly enhanced my enjoyment of True Blood just by being in it.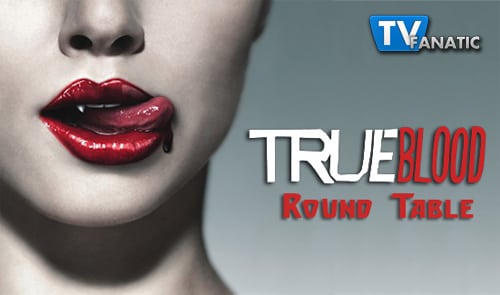 What was your favorite season?
Leigh: True Blood Season 2 and True Blood Season 3 were pretty awesome. Unless 3 had the werepanthers, I can't recall. I loved the whole maenad business and I loved eventually meeting the wolves. One love Alcide.
Chris: It was love at first bite for me. True Blood Season 1 will always be my favorite. Watching the small town of Bon Temps turned upside down by a killer all while trying to cope with the emergence of vampires along with the rest of the world.
Liz: My favorite season overall is season one, with four coming in a close second.
Carissa: Mine is True Blood Season 4 because of how fun and unexpected the lost, mind-wiped Eric was. 
What was the craziest scene/storyline/moment in series history?
Leigh: How can I narrow it down?! I'm thinking in my top 3 would be Russell Edgington ripping out the newscaster's spine on live TV, Bill twisting that bitch Lorena's head around, and all of Bon Temps being under a maened spell.
Chris: That would have to be Russell Edgington's newscast. "We are nothing like you, we are immortal." He showed the country the ugly or "true face" of vampires as he put it. Then vowed to eat man and child alike. Then he just broke character to politely hand off the broadcast to Tiffany and the weather. The fragile peace between humans and vampires was never the same after that.
Liz: I feel that the craziest storyline was The Authority and Lilith. Craziest scene (and moment) was, of course, the twisted sex scene between Bill and Lorena.
Carissa: Since it can't be the one true answer to the question below, one of my favorites was when Sam killed Roslyn by entering her a fly and shapeshifting back into himself from inside her. What a great party trick!
What was the most memorable death?
Leigh: Sam as the horse like creature ripping out MaryAnn's heart.
Chris: From a main character point of view, it would have to be Godric meeting the sun. In his final moments he broke Eric's heart and we saw him reduce his progeny to tears. In the end he just wanted Eric to let him go. Not unlike how Bill wishes Sookie to let him go. Sookie stayed with Godric until the end and the two talked about God and forgiveness, a vampire and a human.
Liz: The most memorable death is still Godric's.
Carissa: Godric for the win. It's so memorable because his death was full of meaning on a show where it was commonplace.  
You can only choose one over the years: Team Bill or Team Eric?
Leigh: I have wavered so much over the years but it has to be Team Eric. Is there anyone more badass and loyal to his word than Eric Northman?
Chris: Team Eric, nuff said.
Liz: I cannot choose either Team Bill or Team Eric because I was never either. In all the seven years of this show I have only and always been Team Sookie.
Carissa: I think the only people on Team Bill were Sookie, Anna Paquin and Stephen Moyer. Poor bastard. Team Eric until my True Death.
Grade the final season.
Leigh: B- I really don't hate it as much as everyone else seems to but I went in with low expectations because last season was abysmal.
Chris: Not the worst season by any means. A solid B. With the run of disappointing series finale's we have seen the last few years it is only natural to expect to be let down once again. No one wants to say goodbye, but like it was for Godric, it is True Blood's time. So I have spent the majority of the season enjoying it for what it is, the last installments of a show I have enjoyed watching and writing about for years. Fans of all the other vampire series, books, movies out there, all the other supernatural based media, owe Alan Ball, HBO and the cast of True Blood a thank you.
Liz: I am giving this final season an A. I feel that the writers are giving the fans some beautiful time with the main characters so that we can say goodbye and be satisfied with where they are ending on the show. I may not be entirely happy with where the characters are, but if it makes sense in the whole story over the years, I can at least be satisfied and can walk away feeling like I've been treated to 7 years of groundbreaking and entertaining television.
Carissa: I have to buck the system. I'm giving it a D. My reasoning is because it was prepared well in advance and so much of the season was filler. When we look back at seminal True Blood moments, especially something as magnificently written as Godric's death, can you imagine picking even one scene from True Blood Season 7? The answer is no. It was more like a commercial for a show that was than a fitting ending for the show that is.
Carissa Pavlica is the managing editor and a staff writer and critic for TV Fanatic. She's a member of the Critic's Choice Association, enjoys mentoring writers, cats, and passionately discussing the nuances of television and film. Follow her on Twitter and email her here at TV Fanatic.