Awkward Season 4 Episode 11 Review: Finals
Nick McHatton at . Updated at .
Over the course of some very long growing pains this season, Awkward Season 4 Episode 11 airs with some much needed enthusiasm and energy that it had been lacking for months.
By doing away with most of the extra storylines that dragged it down, Awkward now has a shot at going back to its roots.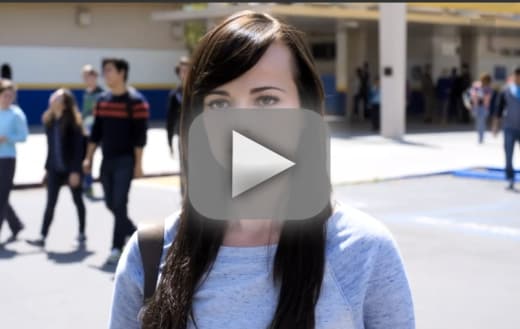 As the installment continues its narration, it is sometimes unclear whether Jenna is really ever going to win against Eva since Jenna tries her best to be a good friend above all else. Sadie has folded her hand and is uninterested in playing along with Eva's games; although Sadie is Jenna's best option when Matty is still in Eva's orbit.
Imagine how shocking it really is to see Matty McKibben finally stand up for himself. In a season of complete and utter life trashing, Matty finally wakes up to how bat shit crazy Eva really is once he follows her trail of lies. His wake up call is the beginning of Matty finally beginning to climb himself up and out of the hole he's dug all season.
Wherever Eva is off to next - probably serial killing - she won't be missed.
With Eva out of the picture, it's time to talk about Matty and Jenna. As much fun as rooting for #TeamMatty and #TeamJake was, at this point, neither team is very good. Jake is still doing whatever it is Jake is doing at this point (another character suffering from this season's whiplash) while Matty is just now finally crawling out of his very own rock bottom.
Lacey gives the best advice of the installment: Jenna doesn't need to worry about any boys. She needs to focus on herself. This may sound familiar: it's the vow she took in the Awkward Season 3 finale.
Lissa, meanwhile, is breaking so many Jesus rules at this point by sleeping with her brother-that's-really-not-her-blood-brother that the awkwardness has just barely escalated to some genuinely funny bits. Maybe if Sadie wasn't so focused on her new beau she would actually see all the signs. Lissa using Jake as her beard is about as believable as her ability to lie, after all.
If, at any point, Awkward Season Four grows unbearable, remember there's always a chance to go back to the first three seasons since you can watch Awkward online right here at TV Fanatic.
What did you think of the premiere? Are Jenna and Matty really destined to just be friends, or do they have more in store? Most importantly, however, is Lissa really committing incest?