Boardwalk Empire Review: Brahmans and Brawlers

Chris O'Hara at . Updated at .
The road to becoming a career criminal is along and dangerous one, but despite all its peril, walking away can often be the most daunting challenge.
As Boardwalk Empire Season 5 Episode 2 began, Nucky met with John Torrio in New York to try and make sense of his attack in Havana.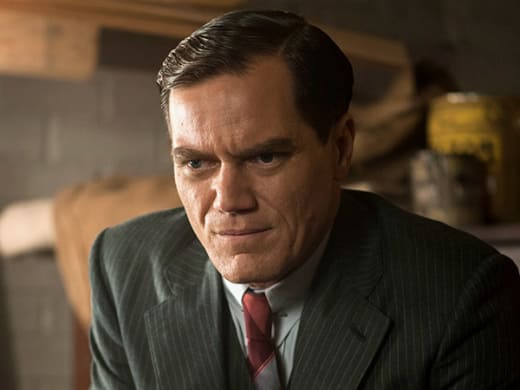 Most fellas in this business, they get their retirement papers straight from the Grim fuckin' Reaper.

John Torrio
Torrio was lucky enough to escape the last attempt on his life and smart enough to take the not so subtle hint that it was his time to retire. Nucky isn't looking to retire, but going legit continued to prove challenging for a man whose notorious past precedes him at every turn.
Despite making him perfectly qualified to undertake his new venture, Nucky learned his illegal enterprises might be too much for some men to overlook. Especially the kind of men he needs to help fund his plan.
Nucky secured exclusive rights to distribute Barcardi... yet nearly lost his life in the process. This week he met an Irishman who struck similar deals with Dewar's and Moet. Learning that the man who initially gave Nucky a chance to speak in the meeting was Joe Kennedy was great. As was the little dig at John D. Rockefeller Jr. for his construction of Rockefeller Center. 
While the average man was struggling to survive, these pillars of industry were carving up the country for their own gain and looking for more ways to get ahead. Nucky meeting the well-heeled man from Massachusetts only added to the chip on his shoulder.
Nucky needed the support of those well-mannered men in New York, but still had to watch his back for the city's more dangerous characters. I thought for a second that his offer to give Tonino a job was sincere, but then the waiter noted the actress whose picture hung above their table.
Nucky got exactly what he wanted out of his meeting with Gyp Rossetti's old associate and having his bodyguard deliver his lifeless body to Meyer's brothel accomplished two things. He delivered a message to the men who tried to kill him and also got some vengeance for the murder of Billie Kent.
Meyer, Benny and Charlie's plan to unseat the old guard was dealt a major blow now that Nucky is wise to their plan. It remains to be seen if he will share his findings with Maranzano or look to broker some kind of peace with the younger faction.
In Chicago, we caught up to Al Capone fully enjoying his success, but also got a glimpse of what will be his ultimate downfall. As he stood there getting fitted for a suit, he loudly sniffled a couple times, which served to show he still was using cocaine and riding the confident high it produces. Eli and Van Alden took drastic measures to settle their debt with Al.
We saw Elliot Ness and the beginning of his plan to take down Capone. While he was building a case against the cocky crime boss, Will Thompson was making a case for why he deserved employment.
I know the way crime eats you out from the inside. I know it and I hate it. Give me a chance sir please. Let me do something good with my life.

Will Thompson
Good for him not letting his relation to Nucky be the final word in his interview. It was interesting though to see how Nucky's past wasn't just hindering his efforts at a respectful life, but also his nephew's.
Why must it always be pandemonium?

Van Alden
I really enjoyed the interaction between Eli and Van Alden. Eli is pretty much a broken man and Van Alden not far behind, but neither is above chivalry. I loved the scene in the elevator where, after removing their hats, Eli had to repeatedly dodge the feather on the one lady's hat in front of him.
Gillian initially looked like she was enjoying a day at the spa, until the nurse turned off the radio and all of a sudden it was One Flew Over the Cuckoo's Nest in there. At first it looked like she was exchanging sexual favors for access to writing materials, but maybe all the guard really wanted was her dress?
Either way, I'm still trying to figure out how Gillian will factor in to the final season.
As things get worse around the country and the longer repeal continues to be just a pipe dream, it will be interesting to see if Nucky falls back into his old ways to try and get what he wants. His plan for the future is sound, but like he said, staying alive long enough to see it come to fruition is another story.
Maybe Chalky and his phone phobic friend will help Nucky with his lack of funds. Or perhaps Margaret will play a part. There must be a reason she was so intent on getting Rothstein's old account file out last week. Maybe there is something there Nucky can use for leverage, if she decides to share it with him.
What do you all think?