Hooray! Dancing With the Stars Season 19 Episode 1 offered a fun, flashy premiere episode with its share of awkward moments.
We began with a catchy opening number that included the judges and the entire cast, though it all felt a bit too rushed.
I miss the days when Dancing with the Stars gave its stars an adequate introduction instead of rushing us right to their dances.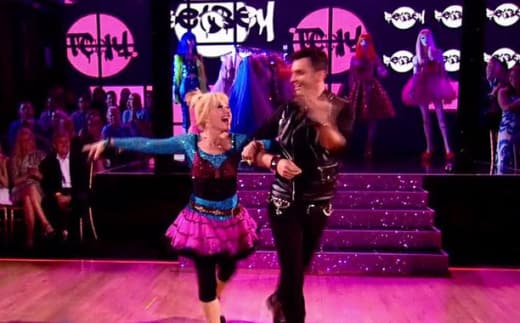 That said, this was certainly an entertaining episode. Most of the contestants seemed happy to be there and tried their best to do well.
Unfortunately for designer Betsey Johnson, a wardrobe malfunction got in the way of her spunk, and she only scored 5s from each of the judges. If you ask me, these were harsh scores compared to the other contestants. Heck, she even did a cartwheel at the end!
I think if you open up Betsey's mind, there's a circus going on.

Tony
Michael Waltrip was fun to watch with a crowd-pleasing Cha Cha to "Born to Be Wild," and the wide-eyed Jonathan Bennett offered a charismatic Jive. Bethany Mota and Sadie Robertson were equally adorable, and I think they'll both do well this season.
That was the most fun I've ever had in my whole life.

Jonathan Bennett
But among my favorite dances was an energetic Cha Cha to "Drop it Like It's Hot" from Tommy Chong. Seriously, if you don't see any other dance this season, you should see this one. Tommy's got moves!
And the bright green costumes were a nice touch. Oh, and did I mention Cheech made an appearance, too?
I'm really good at doing whatever beautiful women tell me to do.

Tommy Chong
At the top of the leader board tonight was Alfonso Ribeiro -- you may know him best as Carlton Banks from The Fresh Prince of Bel Air. He's an extremely likeable guy, and he seems thrilled to be on Dancing with the Stars. His Jive was really fun to watch, and he even received a standing ovation from the most critical judge, Len Goodman.
On the other end of the spectrum was a cringe-worthy dance from Olympian Lolo Jones. Despite her partner's positive attitude and adorable smiles, Lolo was basically a robot. But the worst part? She became defensive once the dance was over.
And although she said she wasn't "making excuses," she... well... made some excuses. And from the look on her face, her entire night was ruined. She didn't receive the lowest scores of the night, but I wonder if her bad attitude will get her into trouble.
And count on Erin Andrews to make her share of awkward comments -- and mistakes -- including calling Julianne "Julia." Whoops. Julianne did not look pleased.
And let me take a minute to talk about Julianne Hough, who was channeling Marilyn Monroe in this episode. First of all, I know what a lot of you are thinking - how is she going to judge her brother, Derek, all season?
So far, at least, she seems to be completely fair and in line with the other judges. I imagine this is what we can expect from her all season. She's a good judge and offers criticism that is actually useful to the contestants. I just wondered if they could pay attention with the dress she was wearing. Honey, put those things away!
Overall, I think we're in for a fun season, especially once we get a chance to know our contestants a bit more. I'm anxious to find out who will be eliminated first. Who do you think it will be? Leave a comment and let us know!
Here's a rundown of where we stand after one night:
Alfonso Ribeiro and Witney Carson (Jive): 36
Sadie Robertson and Mark Ballas (Cha-Cha): 34
Lea Thompson and Artem Chigvintsev (Foxtrot): 32
Bethany Mota and Derek Hough (Jive): 32
Randy Couture and Karina Smirnoff (Foxtrot): 31
Jonathan Bennett and Allison Holker (Jive): 30
Tavis Smiley and Sharna Burgess (Foxtrot): 29
Janel Parrish and Val Chmerkovskiy (Jive): 29
Tommy Chong and Peta Murgatroyd (Cha-Cha): 27
Antonio Sabato, Jr. and Cheryl Burke (Cha-Cha): 25
Michael Waltrip and Emma Slater (Cha-Cha): 25
Lolo Jones and Keo Motsepe (Cha-Cha): 22
Betsey Johnson and Tony Dovolani (Cha-Cha): 20
Ashley Bissette Sumerel was a staff writer for TV Fanatic. She retired in September 2017. Follow her on Twitter and on Google+.