Hawaii Five-0 Season 5 Episode 1 Review: Nowhere to Hide

Michelle Carlbert at . Updated at .
Now that's what I call a season premiere!
Hawaii Five-0 Season 5 Episode 1 started out with a mystery, moved through one frightening plot after another and ended with multiple storylines that are sure to carry on throughout the season.
When I first saw the island deserted, with empty cars on the freeway and signs of people hastily retreating from the beaches and hotels, I didn't know what to think. Then the story continued and we realized that someone was using a military drone for terrorist attacks on innocent people.
I'm just going to pause for a moment and say that, though I did finally understand why people had evacuated the streets, the empty cars on the highway still made no sense to me. I mean, if you hear that the city must be evacuated immediately, do you really stop your car in the middle of the freeway and run? In the middle of a city street, where there are buildings to do go, maybe.
But the street? I could never wrap my head around that one.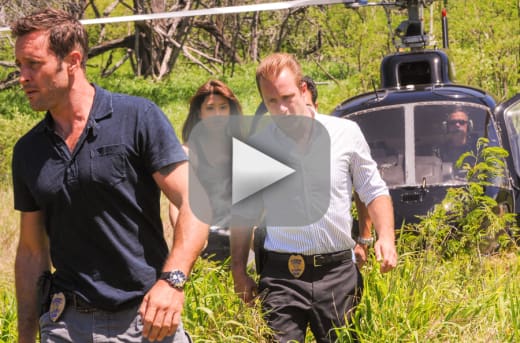 Anyway, back the rest of the story. This was a strong episode and it had a lot of good stuff going for it. When you start an episode with Steve and Danny in what amounts to couple's counseling, you're off to a spectacular start. The Steve/Danny bromance is one of my (and many fans') favorite things about this show, so giving that to us right off the bat made me a very happy fangirl.
From there we did see some cool explosions, car chases and shoot-outs, which the show is also known for. But I also enjoyed how much Jerry got to be a part of the action this time. They would not have been able to get that drone or the jet without his help so he really was the hero of the episode.
Also, I really enjoyed the fact that the episode wasn't over when you thought it was over. If I counted correctly, we ended up with four separate endings/beginnings to new storylines.
First there was the original terrorist storyline, which wrapped up nicely after Steve was released from the hospital to recover from yet another gunshot wound.
Then there was the two men discussing Jerry's photograph and how they were going to "take care" of him if he knew too much. Was it about the counterfeit money scheme he thought he found or did he stumble across something else?
Then there was Kono and Adam discussing their future and whether or not they might get married in the future.
Then Chin went to visit Gabriel in prison and asked him to testify that the money IA thinks Chin stole never actually changed hands. Something tells me Gabriel won't agree to that easily.
Finally there was Danny coming home to find a strange man in his house and discovering that the guy was a "friend" of his brother's and needed Danny's help to get something Matt took.
That's a whole lot of story to cram into one episode so if this premiere is any indication, we're in for another wild ride this season.
My favorite bits:
Danny and Steve are in couple's therapy? Well, it's about darn time.
Yep, I knew Danny would bring up the car thing. Steve trying to defend it was awesome.
Danny saying that he wouldn't describe it as being hired so much as being kidnapped. Yep, that sounds about right to me.
Chin informing his tail exactly where he was going, in case they lost him. Ha!
The guys tracking Jerry down because his mom's minivan had a tracking device. That was awesome.
Jerry only agreeing to share his information after giving his disclaimer.
Those air raid sirens going off across the island. If I heard that, I would need a new pair of pants.
Jerry flying his drone into the office and scaring the crap out of everyone.
Danny and Steve acting as bait and the resulting cargument that came from it.
Well, that's certainly one way for Danny to get to drive his own car. Here's hoping he doesn't get any ideas from that and decide to shoot Steven himself.
Danny pointing out that he didn't know which was worse: Steve's driving or his backseat driving.
Nearly losing my mind when a freaking jet landed in the middle of the road. WTF?
Jerry taking down a jet. That was pretty impressive.
Kono punching Redmond. I felt like doing that myself.
That entire scene with Danny versus the bad guy in the car.
Steve shooting Turner in the leg with an attitude that reminded me of Indiana Jones shooting the guy with the whip. He was just too tired to do anything else.
Grover suggesting that Steve could get a free bullet extraction after every fifth bullet wound. That's not a half-bad idea.
Thinking that "Deeply cynical, misanthropic, short-tempered partner" was the best, and most accurate description I've heard for Danny. Ever.
What did you think of the Hawaii Five-0 season premiere? What your favorite or least favorite moments? Don't forget you can watch Hawaii Five-0 online any time via TV Fanatic!