Love & Hip Hop Hollywood Review: More Rappers and the Girls That Love Them

Whitney Evans at . Updated at .
The original Love and Hop premiered over three years ago and, after a very successful spinoff in Love and Hip Hop: Atlanta, we have all now been blessed with an installment set in Hollywood.
I'm kind of surprised Hollywood wasn't their first stop, but nonetheless it's here now and it's a beautiful thing. 
While the male stars are legitimate musicians, most of the ladies will not be known to viewers. But Love & Hip Hop: Hollywood Season 1 Episode 1 does a good job of introducing these ladies and making them more interesting than their boyfriends/ex boyfriends/baby daddies. 
The first episode of any reality show is usually just a set up for the season, allowing us to meet the players and try to guess how many fights there will be. So, let's break down the players, shall we? And see how likely they are to throw a drink at someone...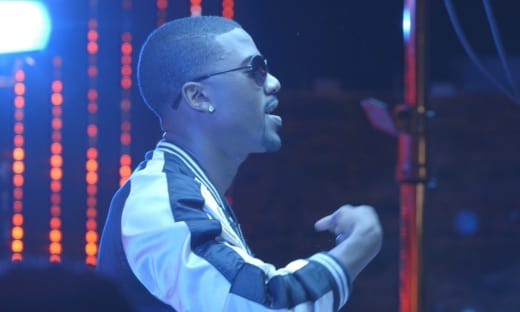 We'll start with Omarion and Apryl, who seem like a solid couple and are anticipating the birth of their first child. It doesn't take long for us to find out that Apryl and Omarion's mom, Miss Leslie, do not get along. At first I wasn't a 100% sure what the main problem between them was, but from a later conversation it seems to involve some unpaid medical bills.
And Miss Leslie seems to blame it all on Apryl. I really couldn't concentrate during their chat, though, because I just kept wondering if they got their nose piercings together in some sort of off camera bonding moment. 
The two don't seem to come to any kind of resolution and it feels like their simmering dislike will boil over eventually, with poor Omarion and his beard stuck in the middle. However, Apryl's pregnancy should keep Miss Leslie from throwing a drink at her, so I'd say Apryl is safe for now. 
Omarion's lesser known B2K bandmate, Fizz, is also apparently on this show. I kind of forgot there were other people in that band besides Omarion. Anyway, Fizz has an adorable son and according to him, a psycho ex baby mama. From the way he talked about Moniece, I thought we were going to be in for someone scandalous.
But Moniece is gorgeous and it seems she's trying to get her life together so she can be a better mother. I mean, she's just trying to build a sex toy empire and find a stable living situation, can you let the girl live, Fizz?!?!
When the two eventually come face to face, it is very apparent that the two can't get along and this figures to be a nasty battle going forward. Moniece looks sweet, but I have a feeling she's thrown many a drink in her day and I don't think those days are over just yet. 
Next up we have Soulja Boy - or Dre as his girlfriend calls Nia him. I prefer to stick with Soulja Boy, thank you very much. Nia and Soulja Boy have been off and on for years and Nia decides to have the what are we conversation in the most appropriate place ever.
That's right, she leans in close and asks him to define their relationship in the middle of a crowded club. I almost felt bad for Soulja, being caught of guard like that but he seems to really love Nia and next to Omarion and Apryl, they seem to be the most stable. 
We find out later that Nia has a son that isn't Soulja's, but he still wants to move in together and solidify their relationship. Nia seems like a sweet girl with a good head on her shoulders, so I can't see her flinging drinks at random people. And Soulja Boy will forever be 16 to me, so I don't even like to think about him and alcohol together. 
Now the real stars of this show are going to be it's two biggest names: Teairra Marie and Ray J. They had some sort of tortuous on and off love affair I never knew about, but they've been off for the last few months after Teairra punched him.
She starts off the episode nostalgic, lounging in the pool recounting how much Ray J meant to her. But when they eventually meet later, things go from 0 to 60 quickly. When she hears that he's happy with his new girlfriend, she is understandably upset. But when she hears new girl threw away the items she left at case de Ray J, she is pissed. 
Even though things don't end so well after their meeting, Ray decides to throw Teairra a bone and invite her to the launch party of his new website. Things quickly come to a head when Ray's new girlfriend, Princess, begins showing pictures of Teairra's missing belongings, which includes some feminine products you don't necessarily need the whole bar knowing you had. And then guess what happened guys? We had our first thrown drink of the season, compliments of Teairra!
I think we will be seeing lots of Teairra being held back by security guards.
There was a lot to take in tonight, but I think this season is off to a decent start. If we can get Omarion and Fizz to stop their sad sack B2K ruined my life talk and just agree to a reunion, I'd call this my favorite Love and Hip Hop show!
So, who was your favorite girl tonight? Did anyone else hope we would see Omarion dance more? And am I the only one happy to see Ray J back on TV? Let me know your thoughts in the comments!
Whitney Evans is a staff writer for TV Fanatic. Follow her on Twitter.