Person of Interest Season 4 Episode 1 Review: Panopticon

Sean McKenna at . Updated at .
The Person of Interest saga has continued down its dark path, forcing the team to go undercover and hide after the launch of the all-powerful Samaritan.
But wonderfully, just like old times, John Reese and company are still trying to save the world one person at a time, even if that means getting themselves caught in the process.
Because it's not just about the numbers, it's about survival, and it's certainly not about giving up.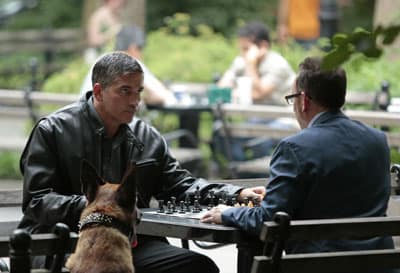 So in a way, it's weird to see a main advocate for the Machine, Finch, seemingly separate from anything involving the Machine. It's as if he's lost his way, lost his purpose and wonders just if their saving of people was worth it. How many other lives were lost in the process?
And it's not surprising that he wouldn't want to continue after the Machine ordered a killing, but like John mentioned, the Machine has done a lot of good.
Which makes Person of Interest Season 4 Episode 1 something of a role reversal for Reese and Finch from Person of Interest Season 1 Episode 1.
It's Reese (who continues to be awesome at just being bad ass during botched drug deals or firing off grenade launchers and throwing people out windows) believing in his purpose of helping others, believing in his friend, Finch, and recognizing their importance.
So I loved when Finch finally agreed to help, even understanding that just because they don't have their library doesn't mean they can't still be the team they always are.
Putting both Reese and Finch, especially considering their bond, at the forefront of the hour was important in the scope of their new journey.
At the same time, using the rest of the characters like Fusco, Shaw, Root, and yes, even Bear felt just enough to give us their specific moments without crowding the hour.
Shaw had plenty of one-liners, looked fantastic in her new role as makeup-counter girl, and providing the obvious backup to Reese. Even their banter at the meeting was great.
Root still seems in la la land, but her connection with the Machine does make me wonder just what she's up to and where her story is headed. Even she was adamant in getting Finch back into the game.
But I do appreciate that while the gang is trying to do some good with the numbers, Samaritan does feel like a real threat (and I love the new camera shots we get to indicate that machine is watching).
It makes for a great way to bring back Elias in Reese's brilliant idea to recruit the spectacled "villain." It's not overdone or too much, but clearly his presence is felt. It allows Reese not to expose him or the team, but manages to get the job of rescuing the kidnapped son complete. (Anyone recognize Marlo from The Wire?)
It also allowed for a smaller case of the week, while keeping that larger scale story throughout. It's something the show has continued to do so well.
But who is that new girl that showed up? Will she be a threat to the POI team? How many problems do they have to deal with!?
Overall, I'm really curious to see where the series is headed and what the battle of the two Machines will have for an outcome. That ending of partnering Fusco and Reese (that'll have some great comedic moments), Shaw going on a date but getting to be a wheel man, and Finch uncovering a hidden location (perhaps a new home for the team?) was brilliant. And to set it all to Jetta's version of "I'd Love to Change the World?"
They really know how to use some good music on this show.
Person of Interest is moving itself right along on its new chapter, providing a thrilling, action packed premiere that reiterates why the series is can't miss TV. Glad to see the show still has plenty of charm, intrigue, drama and is just plain fun to watch.
What did you think of the premiere? Are you glad to see the team back? Just what did Finch find at the end? Sound off below and check out all the goodness of the hour when you watch Person of Interest online.
Sean McKenna was a TV Fanatic Staff Writer. He retired in May of 2017. Follow him on Twitter.