Resurrection Season 2 Episode 1 Review: Revelation
Paul Dailly at . Updated at .
Resurrection kicked off its sophomore run in disappointing fashion.
Resurrection Season 2 Episode 1 picked up a week after the events of Resurrection Season 1. Not much has changed in the week. The army has taken the returned out of town but we don't know where to. Jacob and some others were allowed to go back home.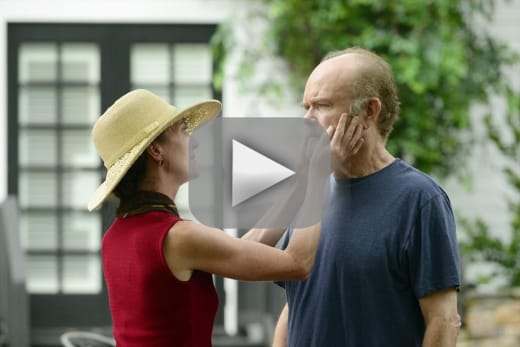 Jacob continues to be an engaging character. It was good how he went to see his Grandma in the cemetery and welcome her back to the land of the living. She seemed pretty shocked but it must have helped seeing a familiar face while looking at her tomb.
It was good to see Michelle Fairley back on our screens. I honestly expected her to play a villain. That might be because I enjoyed her so much this summer on 24: Live Another Day. I liked Henrys' reaction to his mothers return.
I woke up on the side of the road.

Bellamy
Fred continues to be a weak link for me. Throughout Resurrection Season 1 he grew more annoying by the episode and tonight he argued with his daughter, attacked Bellamy and then became the town drunk and befriended Elaine.
It didn't make sense that Elaine would even give him the time of day as she is a good friend of his daughter. He is acting like he is having a mid life crisis. I also don't understand why he was going to kill himself. The dead doesn't exactly have a good track record of staying dead in Arcadia.
The scene in which his mum took the gun off him was really good. I liked how he was adamant that she wasn't real. I think he might believe it is her now. It only took a few slaps to the face. But is it really her?
Bellamy: How did Jacob get here?
Henry: Soldiers brought him back
What is going on with Elaine? There is little story left for her unless the writers start making her interesting. I felt like she was only in the episode to serve Fred's story. Every time we see her she is worrying about something. I do agree she doesn't have a lot to be happy about given that her dad has disappeared and she probably won't see him again.
The most interesting developments of the episode came from Bellamy. It was pretty obvious he had died from the start of the episode. The way he woke up in a similar way to Jacob was a big giveaway. I am not enjoying the conspiracy storyline. We haven't been given enough information to know anything. I don't know what possible reason they would want Bellamy to stay in Arcadia and report back to them from time to time.
It was a good twist that his old boss set him up. It seemed like she wanted to help. I'm sure she thought she was. To anyone outside Arcadia, Bellamy's claims must sound crazy.
Is anyone else really digging Bellamy and Maggie? She was genuinely worried about him. The scene in which she made them dinner was really good. We found out a bit about her back story and that she was in a relationship and signed the lease before calling it quits. She offered to let him sleep on her couch while figuring out what to do next.
I don't know anything about you.

Maggie
All things considered this was a lackluster episode. The thing most worrying thing to me is that there are at least 15 episodes this season while last season had just 8 and struggled to stay good creatively.
I feel like this episode will alienate a lot of fans. It didn't have the excitement of a season premiere and felt more like the filler episode you get in the middle of a really long season.
Remember you can watch Resurrection online right here on TV Fanatic! Does everyone agree that the episode could have been a lot better? What do you think is next for the residents of Arcadia?
Paul Dailly is the Associate Editor for TV Fanatic. Follow him on Twitter.