Satisfaction Season 1 Episode 10 Review: The Perfect Time

Carissa Pavlica at . Updated at .
Satisfaction guaranteed. 
The post-modern love story managed to give us a happy ending at the end of Satisfaction Season 1 Episode 10 as well as leave plenty to explore should the series (please) be granted a second season.
Before I continue, I want to give major props to USA for their promos of the series. At no time did they give too much away about the coming episodes. Always there was a bait and switch tactic to drive discussion and excitement for the next week that resulted in AHA moments when finally revealed while viewing. Impressive.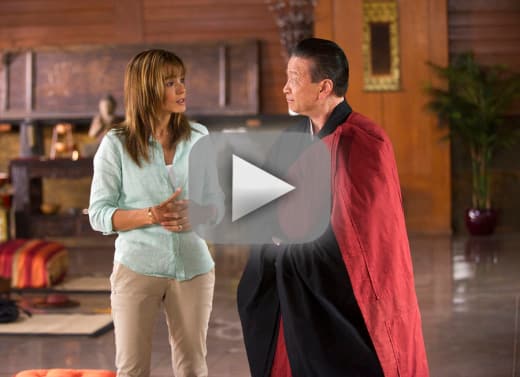 It's not an easy suggestion, putting yourself into incredibly risky situations to re-ignite your marriage. A lot of what allowed us to buy into the fantastical were the utterly amazing performances by each actor who literally embodied their character, showing us layered and complex personalities to help us connect with them and to understand there were no right answers. There were deep and unique emotions to be examined, and Satisfaction Season 1 delivered.
I know many people find it difficult to understand that a woman as attractive and talented as Grace could lose her self esteem during the course of a 20 year relationship, but Anika's self-worth has been affected by what she's seen from her mother. Girls do learn from watching their moms and there is no other reason for Anika to be in that position (which Mateo pointed out to her).
Watching an old episode of Grey's Anatomy today I was given yet another reference to this phenomena, when a woman had to admit her son was from an affair rather than her spouse. It's odd how the same topics play again and again. Her explanation was that she never fell out of love with her husband but, over time, to assure she and her husband fit together in ways best for their family, she chipped away parts of herself and others were sliced off in tiny measure to maintain that fit. One day she looked up and didn't know who she was anymore. 
Although it manifested in very different ways -- Grace through an affair and Neil taking a stand at his job -- both of them lost sight of the people they were when they got married. Neil's journey was deeply explored while we were left grappling with what Grace was feeling. It was easy to blame her for their problems because we understood Neil and his desire to reconnect with his wife. Tonight we learned that Grace was making changes to reconnect as well.
Grace did break off ties with Simon. She was visiting a therapist. She shared a story about her muddy shoes representing who she has become over the last six months and how difficult it was for her to crack that mud for fear of losing what she's gained. Before ever speaking in any detail with Neil, she chose to finally have them cleaned. Neil noticed them and complimented her when she wore them again. That speaks volumes about how far they've come.
Even better, the hour was not without surprises. Adriana hoped to engage Neil in an overseas adventure, but he wanted to call off all association with her. She had the audacity to speak with him about it while Grace was on her couch. He granted her wish for an in-person discussion only to find her husband, Fisher, had returned home -- apparently a week early -- after a four year absence. 
It has always been my guess that Adriana was hiding something, and one of my guesses was that she was married and jealous of Grace because Neil wanted her back despite what he had learned about her affair. Neil's love for Grace was never in question, but as an absentee husband, Fisher's love for Adriana is. No wonder she wants Neil so badly.
We get to question everything about Simon now, as well. As one of the last heirs of the Waverly family (billionaires), he likely has a much deeper back story than the simplicity of being an escort. Did his own family life send him in this direction? He was searching for something, something he thought he found in Grace. Why was he using that particular route? It most certainly wasn't a financial issue.
Simon had no nefarious feelings toward Neil for having Grace and was hoping to win her over on merit (and with some financial help from his inherited artwork). The gun came into play only after Neil and Grace agreed to spend months in Milan after Grace was awarded the fellowship. Drunk in their rekindled love and acting like everything old was new again, Mallory's husband made his way into their front door while they stood in the pool, saying goodbye to their home.
So yes, there is a lot to examine during a second season. The gun-toting husband will do something. He will either shoot or discover the loving couple and decide to walk away. Grace still has to find out what the Zen Master meant by Neil going through the frightening period of self discover to become the willing partner she deserves. A second season might see Grace visiting the Master to learn more about herself as Neil did about himself. 
It's borderline cruel to leave us with Matt Passmore in grave danger at the end of a series that hasn't been renewed again. The man is magical. He exuded so much emotion while talking about Grace during his app meeting.
There is no result that we can offer our customers that will meet their expectations. And they know that; at least the rational ones do. Our customers won't be paying for the results we can provide, they'll be paying for the moment before the results. Like, like when you catch a girl's eye in a crowded room, and she sees you, and you cross to her and you know she sees you coming. It's that second, right before you say hello, when all there is is possibility and that possibility is perfect. And then she speaks and you realize she's more than perfect, she's French.

Neil
Was there anyone who didn't tear up while he delivered that speech? Or again when the couple realigned with one another in the therapist's waiting room? To deny us more of this cast, all five main characters -- Neil, Grace, Adriana, Simon and Anika -- seems criminal. 
Let's try to break the internet this week as we engage in a discussion about the finale. Did the events change your feelings toward Grace? Can you get behind them as they work through their issues? What problems seem most likely to resurface in another season?
I thank all of you for your passionate voices, kindness to one another and spirited conversations throughout this season. You complete me. Don't forget, TV Fanatic makes it easy for you to watch Satisfaction online. If you're just dropping in, it's time to get started!
Carissa Pavlica is the managing editor and a staff writer and critic for TV Fanatic. She's a member of the Critic's Choice Association, enjoys mentoring writers, conversing with cats, and passionately discussing the nuances of television and film with anyone who will listen. Follow her on Twitter and email her here at TV Fanatic.