The Goldbergs Season 2 Episode 1 Review: Love is a Mixtape

Samantha McAllister at . Updated at .
The Goldbergs' writing team created a season premiere that was equal parts funny and heartwarming.
They are proving to all of the other returning comedies that the alleged sophomore slump can be avoided when you put your mind to it and craft a well rounded episode.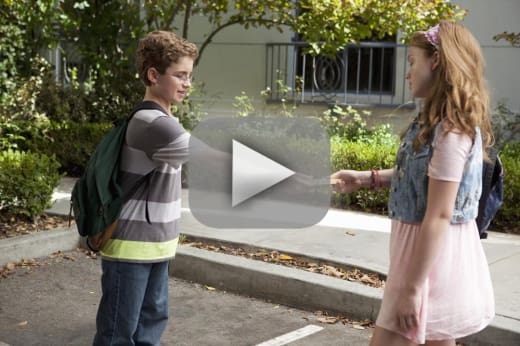 I fell in love with The Goldbergs last year and even though I am not a child of the 80's (I was born in the mid-80's), I was still raised by the influence of that decade. How could you not love a show that dedicated a whole episode to The Goonies?
On The Goldbergs Season 2 Episode 1 I welcome going back to Jenkintown, Pennsylvania to see what this crazy family is going to do this season.
My mom thought it was for her because she is a freaking lunatic!

Adam
Going into the second season, after a really strong first, it's easy to get nervous that a show (especially a comedy) will have some type of slump or will be lazily written. Instead The Goldbergs kept my faith in half hour comedies alive.
Almost everything in this episode was constructed extremely well; from Pops giving advice to Bev (that she didn't listen to), to Murray bailing out Barry (or Carlos Del Monaco) and Adam trying to juggle both his women (yes, Dana and his mom). The story flowed well from beginning to end.
I know some people were getting tired of Bev and her overbearing nature on her children. While some shows would tone her down to appease that small group, here the writers have kept her as overbearing as ever. In some instances it can and will get grating but, at the same time, you know this woman loves her kids and she would do anything for them (she broke into a control room for goodness sakes!).
It's also clear that this is the season for character developments. We have Adam getting into his first real relationship (a development in itself) and we're also going to see him dive right into those teenage years. We all remember how that was! 
The only complaint that I can really make is they need to do something more with Barry. Yeah, the guy makes me laugh, but it's going to get old fast watching him make the same mistakes over and over again. There is some hope that he may start getting into the popular crowd thanks to his fake ID and with a little help from Erica. 
A lot of shows could take a few pointers from The Goldbergs. Looking at just this first episode, we can already see where this season is going. We know what to expect from the characters and we know that even though some things may be absurd, we'll still laugh at the situations. 
What did you think of the season premiere of The Goldbergs? Do you think they should tone down Beverly? What do you hope to see this season, in regards to 80's nostalgia? 
NOTE: Remember to visit our section of The Goldbergs quotes to relive the best lines.
Samantha McAllister was a staff writer for TV Fanatic. She retired in November 2018.