This is what happens after you shatter all network records:
You quickly get renewed for another season.
Thanks to American Horror Story Season 4 Episode 1 debuting to over 13.3 million viewers (across all platforms, including encore airings) and becoming the most-watched telecast in FX history, the beloved anthology series has been picked up for Season 5.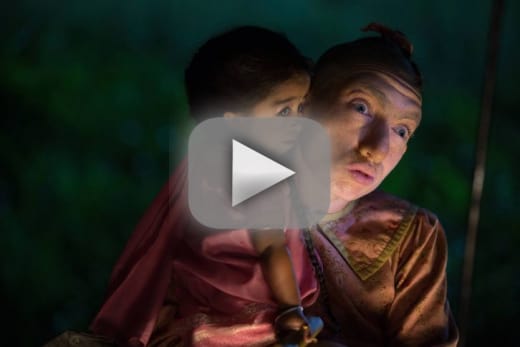 Said John Landgraf, CEO, FX Networks and FX Productions in a statement announcing the news:
"The American Horror Story anthology has had the highest growth trajectory of any show in FX history, not to mention an unprecedented track record of success in awards recognition. With Ryan Murphy and his partners, Brad Falchuk, Dante Di Loreto and Tim Minear at the helm, the show's success is not surprising.
AHS continues to deliver amazing stories, a brilliant troupe of actors led by Jessica Lange, and a visual style unlike any other on TV. With Nip/Tuck, Glee, The Normal Heart, and American Horror Story, Ryan Murphy has established himself as one of the most successful and prolific producers of this generation. We expect AHS: Freak Show and the next incarnation of AHS to further his legacy."
Lange has said that she won't return to the show after American Horror Story Season 4, but it's far too early for have real insight into the production's next run.
All we know is that it will include 13 episodes... and that we 12 episodes remain in Season 4! We can't wait!
Be sure to watch American Horror Story online via TV Fanatic if you missed the terrific premiere.
Matt Richenthal is the Editor in Chief of TV Fanatic. Follow him on Twitter and on Google+.