American Horror Story Season 4 Episode 1 Review: Monsters Among Us

Carla Day at . Updated at .
When I woke up this morning, I wasn't afraid of clowns. Now, as I think about going to sleep tonight, I'm terrified of them. 
I didn't expect the American Horror Story: Freak Show premiere to be the most frightening of the anthology series. It was more bone chilling than I remember any of the previous ones. It was the clown! Though, the killer Siamese twins and the angry Jimmy Darling didn't help either.
American Horror Story Season 4 Episode 1 freaked me out and not because of the "freaks" per se.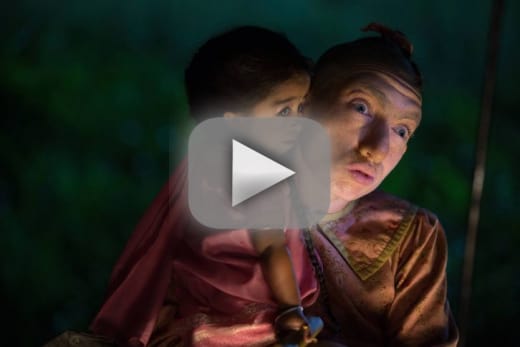 I can't get over the clown. He might be the reason I stop watching (and reviewing) the show. Even though I don't watch a lot of horror movies, I've always enjoyed American Horror Story's take on the genre. The episodes were often shocking with gore, fright, comedy, or even sex, but the series has never quite unnerved me like "Monsters Among Us" did.
Though, as I sit here and try to figure out what bothered me so much about the hour, Jimmy's rage also was upsetting and set a tone within that community that I'm not sure I'm on board with watching week after week. Though, the scene that terrified me the most was when the clown started throwing stuff at the cage. His fury was even darker and more evil than Jimmy's.
If anything, the powerful reaction I had to the episode demonstrates the strength of the hour. It was incredibly well done and both the acting and writing was superb as has become the norm on the anthology. The only thing I wish is that FX had withheld the information about Sarah Paulson's Siamese twin role and the image of Bette and Dot Tattler.
The premiere was written and filmed in a manner that her "monster" attribute was supposed to be a surprise. From the initial shot of only one head to the X-rays to the final reveal of the twins would have been more suspenseful and enjoyable without the information beforehand. It may have been more easy to accept people's fear and outrage over their condition as well.
Jessica Lange stole the show as Elsa Mars from the moment she asked the twins about their cherry pie and sealed it with her stage performance. That was so over the top, yet brilliant. It wasn't clear why she was performing on stage since it was supposed to be a "Freak Show," until she let the truth out. Both truths. She's using the performers to be discovered to become a star, but she's also a freak in her own way. I didn't see her fake legs reveal coming, did you?
I'm intrigued to find out more about Elsa's past, as well as, the other characters until I think about the end. 
When the detective showed up to take the twins into custody, it made sense for the others to back them up and protect their newest family members. Jimmy's reaction was unexpected though understandable. He's filled with rage about the poor treatment of his people and he reacted. For a moment, I thought I was watching Sons of Anarchy.
Jimmy gave a rousing speech to bring his people together and it turned into a mob action to cut the detective into little pieces. There won't be much of him left to bury. With the most frightening clown in the world looking on, what will happen next? As uncomfortable as the episode left me, I have to tune in to see what happens next.
Will the freaks become a killing squad that targets those who ridicule them? Was this a one time thing? I don't know, but I want to find out. Nightmares or not.... Plus, there's the weird Dandy Mott and his mother, Gloria. I doubt they'll give up their quest to procure the twins. And, the clown's captives ... what will happen to them?
I guess there's enough intrigue to overcome my discomfort. How about for you? Did you enjoy it? Did it freak you out as much as it did me? Will you be back for more? What was your favorite part?
If you want to watch the episode again, watch American Horror Story online here at TV Fanatic!
Meanwhile, here is a look ahead to American Horror Story Season 4 Episode 2 and beyond: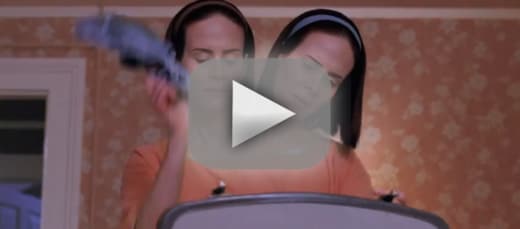 Carla Day is a staff writer for TV Fanatic. Follow her on Twitter and on Google+.