Criminal Minds Season 10 Episode 3 Review: A Thousand Suns

doug@mediavine.com at . Updated at .
It's not often we are given a completely unusual episode of Criminal Minds. But this one ranks near the top for its unique and engrossing story.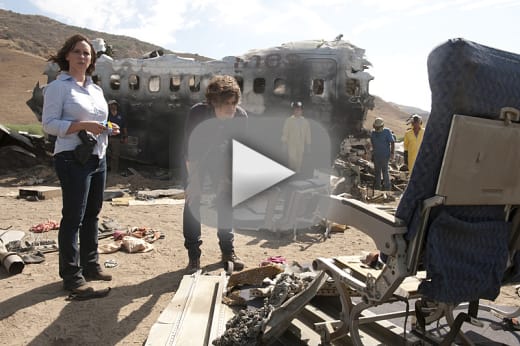 Criminal Minds Season 10 Episode 3 opens with a packed plane, filled with disgruntled passengers, all worried and griping about First World stuff. 
Like the mother who forgot to pack diapers for her baby or the businessman trying in vain to work on his spreadsheet. Or this:
The movie stopped. Stupid WiFi isn't working.

Passenger
Nothing like a little sudden free fall to get your mind off your WiFi problems, is there?
I really liked that opening scene, which shows the banality of the stuff we concern ourselves about, while death stands silent at the door watching us all.
This is one of the best Criminal Minds episodes yet. Normally, the format is one involving a whodunit dynamic. In this case, not only do we have to figure out who did it, but what exactly happened - and then why.
There wasn't a lot of action in the story, but a heck of a lot of information to sift through. And that made it a complete intelligence soup: the viewers had to sip it slowly as they, along with the BAU, worked at sorting it all out.
I was sure there was a missile strike involved, especially when they flashed to the rogue military types packing up their guns. The fact that it was a misdirection never even crossed my mind.
When they interviewed the old conspiracy nut, I was positive that he was onto something as well. Besides, everything he said tied in with that previous scene. Misdirection coupled with confirmation. I mean... he really did see the military guys, right? The only thing wrong with his testimony was that he never saw the bright flash of light he claimed shot from the ground to the sky. That was pure imagination.
The only glaring problem with the episode was the survival of the co-pilot. Try as I might - and even taking into account that one guy's explanation about how it was possible - I just couldn't buy that he lived and was able to walk around even for a few minutes like that. He called it a miracle. I call it bogus.
Nevertheless, it didn't distract too much from the story.
Reid's brief explanation of air flight was brilliant, too - and it brought back memories of my Air Cadet days, when I sat through classes of similar explanations.
His description of the fragility of the fuselage ramped up the anxiety about traveling by air. So much is dependent upon the proper functioning of the wings.
I suppose there's one more problem with the episode to consider:
When Hotch, Morgan and Kate stormed the Unsub's cabin and saw him holding the controller, they bargained with him at first. His holding that thing was like holding a loaded gun - only his target was the hundreds of people on that plane. In real life, the cops yell at the perp to either drop it immediately or get shot.
No one stops to talk and the perp isn't allowed time to think. But then again, this kind of end scene is vintage Criminal Minds isn't it?
It was still a pretty great episode.
Final thoughts:
Kate doesn't like to be seen as the weepy (read: helpless) girl.
Reid has become a pro at establishing trust. He could see that trust was what Kate needed, so he offered up his own story to her.
Kate is looking after her deceased sister and brother-in-law's baby - who's now 13 and the light of her life.
This was such a great episode it's worth seeing it again. You can do so now when you watch Criminal Minds online.
What did you think of the episode? Was any part of it predictable? What's your take on Kate?
Douglas Wolfe was a staff writer for TV Fanatic. He retired in 2016. Follow him on Twitter
.