Before there was Batman, there was the Balloonman.
But is he just what the city of Gotham needs right now?
Below, TV Fanatic staff writers Hank Otero, Robin Harry, Carla Day and Sean McKenna and Gothamsite's Craig Byrne come together to discuss Gotham Season 1 Episode 3. That is, unless they just happen to float away…
So light up your balloon signals and join in the latest TV Fanatic Gotham Round Table.
What was your favorite scene?
Hank: Probably crooked cop Cranston's frozen body falling on the old lady with the dog. Death by Cranston-pop, that was a trip!
Robin: I really liked the scene between Cobblepot and Maroni. There was something very familial about it, and you could tell that Oswald's wheels were turning.
Carla: I'm still a fan of Selina, so her manipulation of Jim Gordon was one of my favorite moments. She told him the truth, validated her story and used it to escape. She's a smart one. I hope she continues a relationship with Gordon. It would be a nice offset to his relationship with Bruce.
Craig: I think my favorite scene is where Jim Gordon was in the sewer looking for the wallet, all while Selina was making her slinky escape. The banter between the two of them brings out a part of Jim that I really like. Camren Bicondova continues to be one of the standouts of this series, and she's going to be one to watch even years after the series is over.
Sean: It's minuscule compared to the hour itself, but the very beginning with Oswald's return was very cool. Not only did we get such quick glimpses of the corruption, but seeing Oswald's glee at being "home" was humorous. Plus, I'm just loving the character.
What did you think of the vigilante known as the Balloonman?
Hank: I thought he was OK, though his method of dispatching villains was way cooler. He reminded me of Sam Raimi's Darkman from the 90's when he went after Cranston. His "look" anyway, not much else.
Robin: I liked him as a vigilante, and I liked what he represented to Jim Gordon. It's funny how they used one villain to shout-out other Batman villains though. I'm pretty sure his first mask was a nod to Professor Pyg, but I can't for the life of me remember who the second costume is...
Carla: His method of doling out vigilante justice was awesome. I didn't fear him as a villain, yet he helped introduce the idea of a vigilante into the story and to Bruce. The balloon pop splat death was gross and perfect.
Craig: I liked the notion of a vigilante in Gotham, and I liked the implications that the notion of a vigilante would have on young Bruce. It's a great way for Bruce to learn that, no, killing people to protect the city is probably not the best thing, even if it'll be years before he needs to bring those lessons to light.
However, the Balloonman also spotlighted a problem I had with the episode and the series so far, and that's the inconsistent tone. It's REALLY hard to take a show seriously when someone goes SPLAT on the ground. They may as well have used the old Road Runner coyote fall noises from those old Warner Bros. cartoons. It was that silly.
Sean: Well his methods were cary cartoonish, his ideals were not. Though, I wish that he wasn't dispatched of in one episode. I would have wanted to know more, especially seeing as he pretty much is the first costume vigilante in Gotham. But I agree with Craig about the show's continuing inconsistent tone.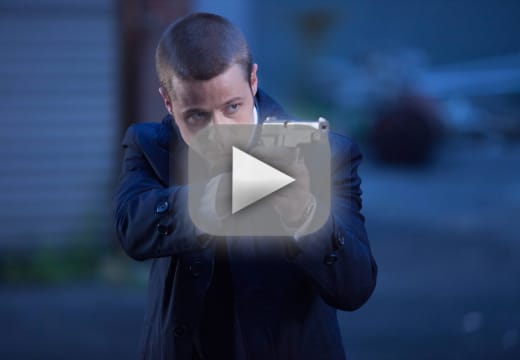 Can Fish Mooney ever become more powerful than Carmine Falcone?
Hank: I honestly doubt it, but that certainly is her goal. Mooney comes across a bit too unstable to be taken seriously by the other crime families of Gotham. I'm not sure Mooney will even survive the first season. Penguin is a much more likely candidate to replace Falcone.
Robin: Not with Cobblepot now playing for the opposing team. Also, she's too transparent - she'll go down in a heartbeat.

Carla: Doubtful. She's too cocky and impulsive to come out on top. She'll be lucky to maintain her current position within the organization. Oswald being alive could be her downfall. That's if she doesn't just get a bullet to the head first. And, I wouldn't mind. She's one of my least favorite characters.
Craig: Yes. I actually kind of hope so. But she is still learning too. As much as Gotham is about the building of Jim Gordon into the great Commissioner that he will someday be, it's also about the rise of the villains - and I'd like to think that Fish Mooney hasn't gone up the latter as much as she hopes to. She does need to chill out though, and not be sloppy. Sadly, I think Ms. Mooney has an arrogance to her that could get her into trouble if she's not careful. But who wouldn't like to see her kicking people around... at least, until Oswald takes her throne.
Carla: Unfortunately I'm not a fan of Fish, as she just seems way too campy for me. And unfortunately, as much as she will try and can't see her ever really being a threat. She seems like prime fodder for Oswald to get his revenge and continue his own rise. Sorry, Fish.
Why does Bruce always seem to hang out in just one room in his mansion?
Hank: Those sets are expensive Ha! It's true though, the creative team really needs to switch things up a bit or skip the Bruce scenes altogether.
Robin: From a story perspective, it's possible that Bruce stays there because it feels safe to him. Realistically though, budgeting!
Carla: He's comfortable there. It's just like a blanket you can't sleep without. It's his place. That ... and budget. It's a better room than his bedroom or the kitchen.
Craig: Duh, because they haven't built him a cave yet! (Kidding. Sort of. Maybe. Not really. Batcave by episode 13? Will the episode be called "Batcave?" Place your bets now!)
Sean: It's where Bruce does his best thinking, of course. And although I know it's mostly for budget reasons, it would be nice if we could see him at least in one other location. He was on the ledge that one time…
What does Oswald want from Jim?
Hank: Probably some type of protection. Jim spared his life, so I imagine he truly considers him a friend of sorts. He's got no one else. If Oswald's goal is to unseat Fish Mooney it's smart to begin nurturing a relationship with the future head of the GCPD.
Robin: I think Jim is probably the only person that Oswald thinks will be straight with him, the only person he can take at face value. More importantly though, Oswald's now got leverage - if he stays dead, Jim's position at the precinct is safe. If he emerges, Jim's in a lot of trouble with a lot of people.
Carla: No idea. It's kinda creepy. Jim told him to not return to Gotham and what does he do ... shows up at Jim's place. He's either the stupidest man alive or the most brilliant. We'll find out soon enough.
Craig: Sweet loving. I'm kidding again, though there's probably a fanfic out there somewhere. In all seriousness, as much as Oswald is learning about the world of crime and such, I think he's also a bit naive. His initial snitching, for example. Since Gordon spared him, he might think Gordon is actually his friend, and might actually care about him. Of course he doesn't. Now, him being alive will make Barbara believe Jim, but for everyone else, it's a whole new can of worms that is opened, and it should make for good drama. Actually, that last scene with Oswald showing up was also one of my favorites.
Sean: It was a pretty cool reveal. It makes me wonder if Oswald will try and befriend him or work with him? I'd be curious to see how that dynamic plays out. At least Barbara knows he wasn't lying.
Sean McKenna was a TV Fanatic Staff Writer. He retired in May of 2017. Follow him on Twitter.