Gotham Season 1 Episode 4 Review: Welcome to Arkham

Sean McKenna at . Updated at .
While Gotham recently received a full season order (a total of 22 episodes), it's safe to say that viewers will really get a chance to see whether or not the show sinks like a brick or swims like an exiled Oswald looking to be bigger and better than before.
After Gotham Season 1 Episode 4, the series still feels like it's definitely pushing for the latter.
The core focus of the hour centered around Arkham and the new plans for the area of land where low-income housing and a state of the art mental institution would be built. But something that sounds so positive, it was an idea backed by the Wayne family, has its own shady problems.
Carmine Falcone and Sal Maroni both want part of that land, and murder and mayhem in the streets of Gotham is just the tip of the iceberg to get there.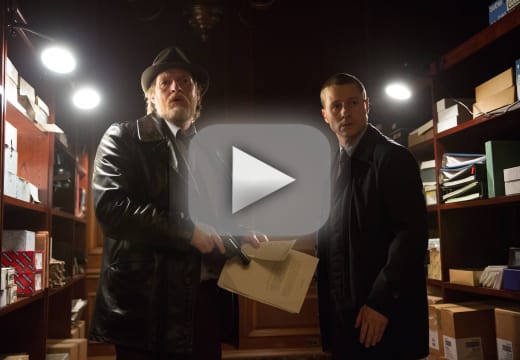 So is that why Bruce Wayne's parents were murdered? It wasn't just a random incident?
I'm sure that question will be answered soon enough, but frankly I'm more interested in seeing how Jim and Harvey get caught up in the battle between the various criminal sides.
There's something there that just yearns to be explored much more so than hunting a killer with a special weapon. So I'm glad that the episode, while partially a hunt for Gladwell, continued to unfold the larger story.
And I was pleased that the show toned down some of its campiness. Don't get me wrong, there's still a fair amount there, but it was far less distracting this time around.
It definitely made me more interested in what Fish was up to in regard to her hunt for a "weapon." She's felt like such a cartoon with the way she talks, but during this hour, even with bits of that over-the-top delivery pushing through, there was something that felt slightly more natural.
It certainly made her appear more sinister than I've given her credit for. Just her auditions alone, mysterious in nature from the singing, seduction and final battle made me want to know more. Just what are Fish's plans?
She may have her sights set on Carmine, but she better watch out, Oswald is moving up fast in the world.
I'm really intrigued by him working with Jim, even if Jim feels rather reluctant to. Their interactions were fun to watch, and Oswald has such a presence that you can't help but want more. He plays his roles so well from the meek dishwasher to the confident cannolli giver. He's going to be a very dangerous threat in between all the crime families battling it out.
And I still really like the partnership Jim has with Harvey, who also seemed less campy as well. There's something about their bickering and banter that's entertaining, that I could see them becoming much better allies in the future. Granted, the crimes they have to solve seem rather simplistic, but I enjoy watching their characters, so I'm more forgiving on that end.
Unfortunately, I wish the series didn't feel the need to continually have Jim go to Bruce's place. We get it. He's the future Batman. Jim wants to save Gotham, too. We know.
Maybe if it wasn't every episode. And I know that on some level it might have seemed rather necessary considering the Wayne's are connected to Arkham, but if the show is less about Batman, do we need to see Bruce all the time?
I also was rather indifferent about Barbara and Jim's break-up, mostly because we haven't gotten to see them a ton as a couple. Her reveal to Jim about her past relationship never really came as a surprise nor was the speech about letting her into his world. I know it's supposed to add that personal drama to Jim's life in addition to all his tough police work, but it didn't really make me feel one way or the other. Hey, at least we got to see Barbara finally leave her apartment!
I like that Gotham feels like its headed in the right direction, and there's something about it that has me coming back for more. If anything, I'm invested to see it grow into something truly great, even if its going to take some time to get there. And now with 22 episodes set for Gotham Season 1, it'll hopefully have plenty of time to do that.
Are you still invested in Gotham? Just what is Fish up to? Sound off below and be sure to watch Gotham online.
Sean McKenna was a TV Fanatic Staff Writer. He retired in May of 2017. Follow him on Twitter.