At first, Tensley Evans wanted to claim that:
"My mom was right."

Tensley Evans
But if Law & Order: SVU Season 16 Episode 3 taught us anything, it's that moms aren't always right - especially if they're sending you, at 13, in a bikini, to pool parties with grown men and a full cycle of birth control pills.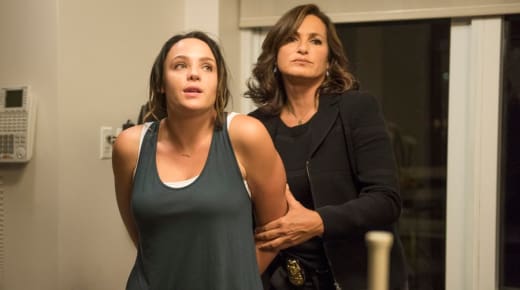 On "Producer's Backend," the focus is on the rising starlet, Tensley Evans.
Evans portrays a scandalous and promiscuous image, which makes discrediting her initial claims of sexual assault and abuse quite simple (that plus the clear cut evidence that proves she's lying about Detective Amaro). However, as more about her traumatizing past is revealed, her position shifts from being the victimizer to the victim. 
She's a victim of not only the the grossly manipulative and perverted men in her line of work, but her mother's negligence. 
Tensley's mother is largely in part to blame for her daughter's current state. You don't just grow up to be in and out of rehab, and the center of controversial attention in pop culture. The Lohans and Spears don't just materialize out of thin air - there are deep-rooted reasons for their current meltdowns, or tantrums, or "episodes," or whatever else you want to call it. There's a whole lot we don't see before jumping the gun and blaming or shaming a potential victim.
Donna Evans was a domineering, piss-poor excuse for a mother from the time her daughter was still adjusting to training bras. When questioned by Mrs. Evans about their agenda, all Rollins had to say to her was:
"Our agenda? You put her on the pill at 13."

Detective Rollins
Being abused from such a young and impressionable age desensitized Tensley Evans to the point where she wasn't even able to recognize herself as a victim. She saw it through the besmeared lenses of "mutual gains" - a mentality probably fostered by the likes of her purposefully ignorant mother or the abusive men she's dealt with her entire life. 
It has her claiming that she was the one responsible for Amber's drowning, that she should've looked out for the 15 year old because she didn't know the way this world worked. It has her claiming that performing a sexual act on another 15 year old herself, despite the abuse she's seen, is perfectly fine, and even welcomed (a gender stereotype not really helped by the 15 year old "victim," Gregory Miller, due to his sheer joy over the encounter).
It begs the question: how much of a role does, and should, mutual consent play in sexual relationships. It clearly isn't black and white.
"This girl doesn't even know she was victimized."

Sergeant Benson
With pressures from both her irresponsible mother and the men who should have been entrusted with her safety (at least at work), Tensley was clearly too young at 13 to be dealt the sordid cards she was playing with. Gregory, on the other hand, seems to have a full grasp on his actions at just 15.
The age gap, as well as the circumstances, should be considered.
Regardless, Tensley's eventual revelation that she's been abused on and off since 13, simultaneously being sexually exploited and forced to take part in a cycle of habitual drug abuse, led to Benson's bulls-eye being placed on Adam Brubeck.
Brubeck believed himself to be a lot more clever than he truly was, giddily dancing around the laws and fulfilling his pedophilia needs. The smirk on Benson's face when A.D.A Barba nails him with sexual tourism over his trip to Canada to bed a sixteen year old, is priceless.
It's also good to see Amaro back on the team after his perfectly by-the-book arrest of Tensley, and his apparent dedication to his anger management classes (according to Rollins - their suggested relationship still in the air, but apparently noticeable by good ol' Carisi). 
The lack of Ice-T was also noticeable this week, but not of much importance as Carisi continues to prove himself as a passionate Detective and only a little bit too bullheaded. 
An episode which started off as a seemingly apparent stab at privileged celebrity culture, with shots being thrown at wide variety of celebs waltzing in and out of rehab to avoid criminal charges, turned out to have a lot more to say about the abuse of a child's trust and  the nature of consensual sexual experiences.  
Another solid episode, watch Law & Order: SVU online to untangle the web of Tensley's dark past for a second time. 
Do you sympathize with her actions over the years following her abuse? Do you blame her mother as much as I do? Or do you believe that these sorts of cases are rare - that these sorts of perverse sexual pressures don't exist with underage actresses? 
Tune in next week as we hopefully find out what that ending was about (Noah's in the ER? Did I hear that correctly?), and leave your comments down below!