Parenthood Season 6 Episode 6 Review: Too Big Too Fail

Carissa Pavlica at . Updated at .
Who expected a three month time jump? On what episode do you expect the next jump to occur?
There has to be another one, right? If Amber is to have her baby before the series finale, there isn't another choice and I think if nothing else, that baby will share its first breath before the Bravermans leave us.
Who knew that having less characters featured on each episode would make the series more cohesive? When the actors all signed on for the final season, they agreed to appear on a number of shows less than the 13 total. On Parenthood Season 6 Episode 6 it became apparent that less can be more.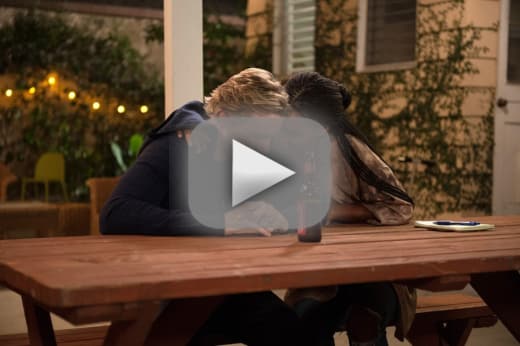 Not everything about the time jump made sense, although I understand the reason it was needed. Where it worked for Amber's storyline, we missed whatever happened to Crosby after Jasmine and Zeek agreed he was in a bad way.
Maybe it was just me, but that was built up enough that I would have liked to have seen the resolution to his problems on screen. Why was he such a mess? It was at the very beginning of the Luncheonette problems, and yet somehow he managed to rise above the worse things got. How?
The logical assumption would be that Jasmine helped him, but their talk lead me to believe he had been leaving her in the dark for three months.
Crosby: I love our house. I don't want to leave her. I'm so sorry I got us into this situation.
Jasmine: I love our house, too. You built us a beautiful house and the Luncheonette is an amazing place and you made it happen. But I don't care about any of that. Losing those things doesn't scare me at all. You not talking to me and you running off in the middle of the night? That scares me. Hey. You're my guy. For the rest of my life. You're all we need.
It appears we shall never know. Another place the jump didn't work was with Max and Dylan. In the lives of early teens, things happen quickly, and yet Dylan, although over at the house for a "date," still hadn't moved beyond a two and a half for Max. They had been on two dates. What happened in those three months? Those seemed crucial to the development of Max's character. He's still reading books on dating; wouldn't he have gotten bored without movement during that time frame?
It also just so happened to be three months time that Ruby got fed up with her mother enough to want to spend more time with Hank and Sarah and to get caught drinking by Amber (who will make a great mother) and taught a thing or two about what it means to have a dad in her life.
So, other than saying out loud several times that it had been three months and showing Amber's larger baby bump, the jump didn't really work.
However, what did work in this installment was the amount of time spent on each storyline. We had full stories with a begging, a middle and an end in one single episode! That's rare for Parenthood.
Crosby and Jasmine had a wonderful solution to Jabbar's birthday problem and his overwhelming desire to go to Hogwarts. Jasmine thought their party was just as good as the real thing, but Crosby only thought it was close. I thought it was better. In Florida Jabbar would have been with his parents and a bunch of strange kids. Instead he got to spend his birthday with a little magic and a lot of good friends.
Kristina got to know Dylan better and is even willing to let her decide on her own time how much she likes Max while she continues to spend time with the Bravermans. A young girl with an absentee family sounds as lonely as it probably is for Dylan. The best part was how different Dylan turned out to be than Kristina first assumed.
The only story that didn't feel right was Drew. He's building his life around supporting his sister and her baby. I'm sorry, but that is just not natural. He's a freshman in college and assuming the responsibilities the father of Amber's baby should be taking on. I hope someone leans in and intervenes. Adam tried, but he had no idea why Drew was going this route (it's not just school loans as he tried to get Natalie to understand). That whole "it takes a village" thing is fine, but not at the expense of his own life.
Next week we are going to be met, yet again, with another "last chance" between Joel and Julia. Because I adamantly do not want them to reconcile, I'm sure Joel will be moving back in by the end of the hour. I'm nothing if not a pessimist!
So what did you think? When do you expect the next time jump? Did it work for you? Hit the comments and remember, you can watch Parenthood online any time via TV Fanatic.
Carissa Pavlica is the managing editor and a staff writer and critic for TV Fanatic. She's a member of the Critic's Choice Association, enjoys mentoring writers, conversing with cats, and passionately discussing the nuances of television and film with anyone who will listen. Follow her on Twitter and email her here at TV Fanatic.