Red Band Society Season 1 Episode 3 Review: Liar, Liar Pants on Fire

Christine Orlando at . Updated at .
They were playing the lying game on Red Band Society Season 1 Episode 3 and everyone was in on it but as Charlie said in the end, even when you're telling lies for the right reasons, you're usually the one who ends up getting hurt. 
Dr. McAndrew walked into the hospital with his sex tie on. Yup, Brittany has catalogued all of his ties and the navy tie means he had sex last night. The problem comes up when he realizes who he had sex with.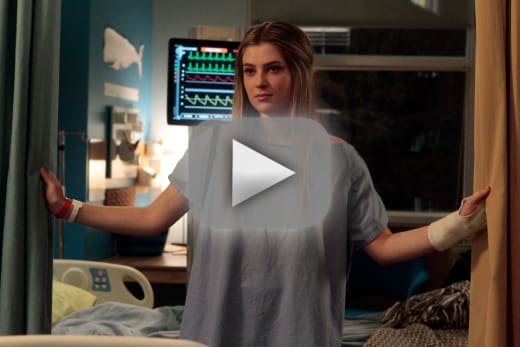 Adam's one night stand turned out to be Jordi's very hot but not-quite dead mom. Turns out Jordi wasn't entirely honest with the hospital staff. His mother isn't dead, it's just that sometimes he wishes she were. 
I appreciated that we got both sides to that story. In Jordi's eyes, his mom was an irresponsible gambler who drank too much and dumped him on his grandmother. The other side of that story is that his mom was 19 and the dad bolted when he found out she was pregnant. She was young and not the best mom but she loves Jordi…and she taught him how to play a mean game of poker. 
Thankfully mom is around to sign off on his treatment. Someone might want to explain to grandma that there is definitely a demon growing in Jordi's leg. It's name is cancer and it's scary as hell.
The Jordi/Emma/Leo triangle began to take root as Leo made a play to get Emma back by helping her make rice krispies treats to cheer up Jordi. I liked how Leo pointed out that Emma cooks as though it's her way of controlling food, although she still won't eat it. 
Later, Emma went off on Leo about their breakup. She obviously felt second choice in Leo's eyes but was that how he saw it or was it simply her perception? Either way, her fear of being rejected again had Emma placing Leo firmly in the friend zone. He lied and said that was OK with him. It's obviously not, especially when he spies her comforting Jordi.
Dash was feeling annoyed and excluded as everyone was hovering over Jordi. He told Leo in this Red Band Society quote…
I haven't heard any code blue alarms so I'm pretty sure the amigo's not dead.


Dash
I loved it when Brittany told him that a bromance breakup can hurt just as much as a romance and how you can't force love, no matter what kind it is. Every week Brittany grows on me a little more. 
Finally there was Kara. The girl really is a train wreck.  A wonderfully sarcastic train wreck, however she does remind me that the human brain isn't completely formed until we reach our early twenties. Maybe that explains her apparent death wish. Or perhaps it's just the way addiction works. Her need for her next fix overrides her instinct for long term survival. 
I'm not sure which will kill her first: her failing heart, her drug addiction or Nurse Jackson if she tries to use a six year old to get her next fix. 
I was impressed that Nurse Jackson expressed her hatred of Kara and her fear that one day she won't immediately respond to the girl's call button and that will be the day she actually ends up dead because, worst case scenario, that could actually happen. 
Then there's the fact that Kara's antics gave Charlie his first three way…sort of. I suppose there's always an upside.
Do you think any of the kids on Red Band Society won't survive their illness? Would that turn you off the show, or make it all the more real. 
And don't forget, if you need to catch up you can always watch Red Band Society online here at TV Fanatic. 
C. Orlando is a TV Fanatic Staff Writer. Follow her on Twitter.