The Goldbergs delivered again with a solid half-hour of laughs.
On The Goldbergs Season 2 Episode 2, we get to flashback to the joys of school-produced plays. This is something you can always count on with this show, bringing up memories you would rather forget.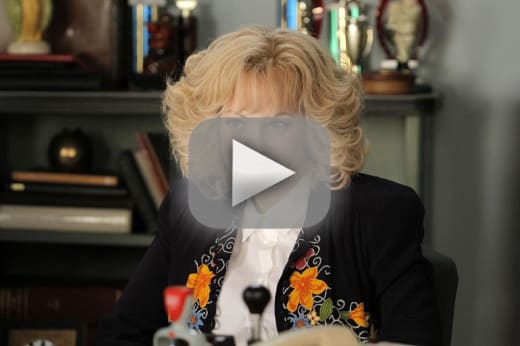 Beverly's belief in her children, this time Adam, never grows old. It doesn't matter how ridiculous she can be, this is who she is. Case in point: Bev immediately believing her son will be the lead, even though he has no musical talent.
It's fate, you're going to be a musical theater superstar!

Beverly
The play that she comes up with, a roller disco extravaganza called Starlight Express, was just perfection. How many people would go and see this show? I know I can't be the only one! Never change Bev. Please, never change!
Murray's frustration with the traffic was pretty spot on. We've all been there and have all yelled at other drivers. No one is a better driver than we are, right? 
It was rather nice to see Barry not being a complete dork. Don't get me wrong, I enjoy Barry's naive nature, but it was a nice change having him make sense. The writers are going in the right direction by rounding out the character and giving him some intelligence. 
I only have a couple complaints. It seems like they really don't know what to do with Erica or where to put her. Is she the voice of reason? Is she the unruly teenager? They just keep going back and fourth with her. It is only episode 2, so I am not overly concerned, but let's do something fun with her this season.
My other complaint? Pops. I wish they would have given him a little bit more to do. I always look forward to seeing what kind of advice Pops has to offer. His response to Bev's play could have been epic! 
Was I the only one that was thinking about the Goonies episode from last season when Dave Kim showed up and got the lead? Adam's reaction was priceless. I guess Dave Kim won't just be known as Data.
This putz, you made this putz Jesus!

Adam
I have to be honest, my favorite scene was during the credits. Murray just yelling at various cars in traffic had me on the floor. This is why The Goldbergs is a success. They take real life situations and put a funny spin on it. 
What did you think of tonight's episode of The Goldbergs? What are you hoping to see this season? 
Don't get left out, watch The Goldbergs online now via TV Fanatic! Also, check out our section of The Goldbergs quotes.
Samantha McAllister was a staff writer for TV Fanatic. She retired in November 2018.