The Goldbergs Season 2 Episode 5 Review: Family Takes Care of Beverly

Samantha McAllister at . Updated at .
On The Goldbergs Season 2 Episode 5 we learned the truth about what happens when you eat pop rocks and drink a soda. 
The whole pop rocks and soda bit was surprisingly funny! We have seen this story before on other shows; character eats pop rocks, drinks soda and another character tells them the urban legend of Mikey.
The Goldbergs, thankfully, made the story fresh by having just a few characters believe the legend and having Erica be the voice of reason.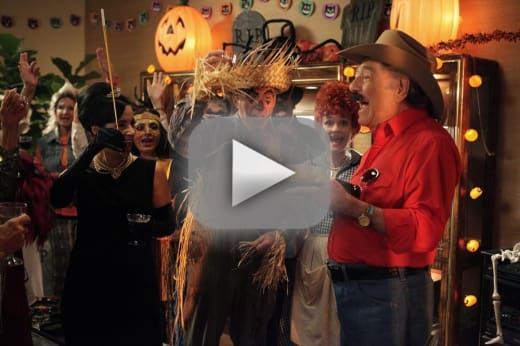 It was pretty great when Barry -- many hours later -- started having stomach pains at school and immediately knew it had to be the combination of the pop rocks and soda; of course, he was wrong. Apparently eating a ton of Halloween candy that is filled with caramel and other thickeners will clog you up; good to know for next year kids!
What are you nuts?! Mikey gave his life so that wouldn't happen again!

Pops
Barry got the girl! No matter how you feel about Barry, he deserved the win tonight. Barry is a character that I know many have strong opinions about, but I see him as someone that tries way to hard and doesn't know how to navigate life just yet. Come on, the guy was wearing a Flavor-Flav clock around his neck like it was no big deal!
Show of hands on who wants to party with Pops? I'm glad they don't write him as your typical sitcom Grandpa; he is more of a free spirit. I loved seeing Murray give Pops rules to abide by like he was one of the kids, but of course Pops won't let something like rules get in the way of his fun. 
Speaking of Murray, it is surprising that he has yet to have some kind of health scare with the amount of yelling and anger that he has. That poor guy just wants to relax and watch television, but his family always has different plans. I fully believee that when he nudged Beverly with his car it released some of the stress that he was having; love you Bev!
We all know that The Goldbergs is loosely based on the real Adam Goldberg, but I always look forward to the Beverly and Murray scenes. They can go from crazy moments of Beverly using A LOT of curse words to having sweet moments in a tree-house. Wendi McLendon-Covey and Jeff Garlin bring so much to their characters and have fantastic chemistry -- they are always a joy to watch.
I do wish they would have focused a little more on Halloween considering tonight's block of ABC shows was being promoted as Halloween-themed, but I enjoyed that they gave Pops a story. We got a little more development on his character which was a nice change of pace.
What did you think of tonight's episode? What are you hoping to see in the future? Were you finally happy that Barry got a win?
You still have time to catch up, go watch The Goldbergs online now via TV Fanatic!
Samantha McAllister was a staff writer for TV Fanatic. She retired in November 2018.