The Originals First Look: Who is Aiden?
Jim Halterman at . Updated at .
We suddenly have a very big question heading into The Originals Season 2 Episode 4:
Who is Aiden?
From the exclusive photo sent over to us by The CW, he's obviously someone who is getting chummy with our favorite gay vampire, Josh. And he's also played by Colin Woodell, who was announced as joining the cast in the role this summer.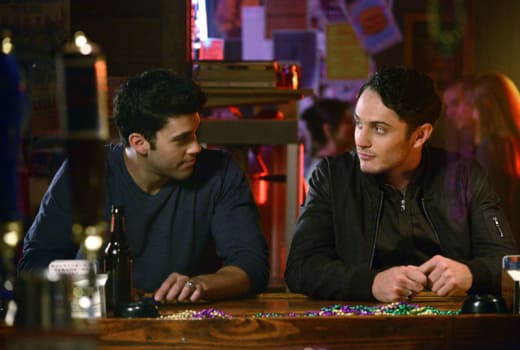 Josh, played by Steven Krueger, is going to be spending some personal time with the new resident of New Orleans - and while the way the two meet will be very interesting, know that any romance that develops between them won't be easy.
"They have a lot in common and they both have the kind of values that make you think that they would be a good match," Narducci told me this week. 
So... what could possibly go wrong? Well, this is The Originals, so you can just imagine what might put a wedge between the pair.
"It's Romeo and Juliet, it's West Side Story, Narducci teased, implying this is a match a lot of people will have issues with, but not because they're both the same sex.
Because they're both different species.
Oh, did I forget to mention that Aiden is a werewolf? That bit of news will make dating a vampire a bit of an issue with more than a few people, don't ya think? 
Enjoy it while you can, fellas!
The Originals Season 2 airs Mondays at 8/7c on The CW.
Jim Halterman is the West Coast Editor of TV Fanatic and the owner of JimHalterman.com. Follow him on Twitter.