The Originals are back and making Mondays a little more bearable.
This week's Season 2 premiere saw Klaus and Marcel joining forces - again - to take on the Guerrera werewolves. Little do they all know Mommy Dearest (and Mikael) are lurking in the New Orleans shadows.
Join the TV Fanatic Round Table panel (Leigh Raines, Miranda Wicker, Matt Richenthal and Heather Vee, from Vampire-Diaries.net) as we dish on all the delicious moments from The Originals Season 2 Episode 1...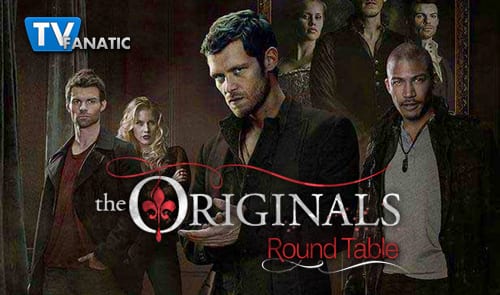 What was your favorite quote or scene from The Originals Season 2 Episode 1?
Leigh: I always enjoy a good Elijah and Hayley scene and their talk after she killed Francesca was probably my favorite. Hayley is in a lot of pain and she was really on point with everything she said. I also noted that their chemistry seems to be lacking a bit too. Is she right? Does he look at her differently?
Heather: The Guerrera takedown was incredibly satisfying, and just a dynamite sequence altogether. And while I loved the scene between Elijah and Hayley that Leigh mentioned, I might go for the scene between Hayley and Klaus, if only because I'm intrigued by the bond between them, which I don't define in romantic terms so much as these two people share a child and a similar yearning for family. Elijah was right - only Klaus could give Hayley the comfort and perspective she needed in that moment. 
Miranda: It was simple and small, but I loved seeing Hayley come out of the woods after spending time there in her wolf form. It was a subtle way the writers showed us how she's been dealing with this loss and transition to her new life as a hybrid.
Matt: The editing of how Elijah and company destroyed the rings and how Klaus regained his power little by little was, dare I say it, extraordinary. It felt like a movie. A really awesome, impressively done, action-packed movie.
Are you satisfied by the speed with which the Guerrera werewolves were taken down?
Leigh: Definitely. I hated them. So irritating. However, it was a new adversary who brought Klaus and Marcel together so I hope the take down doesn't mean their alliance is over.
Heather: I expected the Guerrera thread to last at least 5 to 10 episodes, so I was very surprised by how quickly it happened. But I'm not sure we've seen the last of that particular plot line. Nothing is ever easy on this show.  
Miranda: I thought their introduction in The Originals Season 1 felt so rushed. I expected we'd get a little more from that story in the first half of season 2. I was wrong. For now at least. So far, I'm unsatisifed with just about everything having to do with the Guerreras and I'm not really sure what I want to happen.
Matt: Surprised, by satisfied, yes. With Esther and Mikael (and Kol and Finn, apparently) around, we all know the focus here has to be on the most effed up family on television (no offense, Kardashians). The Guerreras were simply in the way.
Love triangle you most (or least) want to see: Marcel, Cami and Klaus or Elijah, Hayley and Klaus.
Leigh: Ooooh, hmmm. As I mentioned above, I liked seeing Klaus and Marcel work together. Will Hayley switch to the other Mickaelson brother now? That could be interesting.
Heather: I really don't want an Elijah/Hayley/Klaus triangle, at least in a romantic sense, whereas I love the dynamic between Klaus and Cami, so... Really, why can't we have a healthy, functioning threesome on primetime TV? I am 100% down for that. 
Miranda: I like the way you think, Heather! I think I want to see Klaus, Marcel, and Cami more than anything else. Klaus, Elijah, and Hayley becomes Tatia 2.0, and we're already going to meet her on the Nina Dobrev crossover ep. There's something I really love about Cami and Klaus together.
Matt: Wow, Heather. Just go ahead and go there, huh? I'd watch a companion series to Sister Wives titled Brother Wives, sure. I'd watch anything that featured Joseph Morgan, Leah Pipes and Charles Michael Davis, really.
Most intriguing new storyline: watching Klaus and Hayley reunite the vampires and werewolves; Casther, Finncent, and Koleb luring Davina to their team; or Mikael and whatever he'll unleash on his children?
Leigh: Just please get rid of Mikael. We've killed him how many times now? I'm so over it. I knew that cute boy Davina met was too good to be true. Good to see you Kol! However, I am most interested in seeing Hayley and Klaus work with the pack. Where was Jackson? 
Heather: See, I feel the opposite about Mikael - I think there's so much potential there, and now that Esther, Finn and Kol are in the mix? Davina is now in a very precarious spot. There is nothing I want more than an Esther and Davina showdown.  
Miranda: I love having Mikael around because I think Sebastian Roche plays evil so well, and yes, I, too, am angling for an Esther-Davina showdown, particularly since Davina knows Esther's spellbook by heart now. But I'm still going with Klaus and Hayley and the werewolves. At some point, I think the survival of both groups will depend on their ability to work together.
Matt: Klaus and Hayley. The latter was marginalized for the first half of last season, but she came on strong toward the end and REALLY strong on The Originals Season 2 opener. I can't wait to keep watching Phoebe Tonkin in all her hybrid-based, vengeance-seeking glory.
How do you feel about Marcel creating a vampire army?
Leigh: That's Marcel's go-to. His last one was destroyed so I'm not surprised he's building a new one.
Heather: This was one of my favorite aspects of the premiere! I like strong, boss Marcel, and doubly love that Josh is his new right-hand man. And I love the thought of Klaus and Marcel joining forces once again, but perhaps on more equal footing.  
Miranda: I love it because across the TVD-verse we haven't explored why people want to become immortal as thoroughly as we could, probably not since Jeremy wanted to turn in The Vampire Diaries Season 1 and we learned about Isobel and Katherine. It's intriguing to me what sort of people might come to Marcel to join his army of immortals and their reasons for doing so.
Matt: I also love it. My only fear is that Marcel's motivational speeches go too viral and some college football team hires him to be its football coach as a result. I don't wanna see him leave the show.
Grade The Originals Season 2 premiere.
Leigh: B. It was kind of slow, but it's also hard to type their dynamite season 1 finale. This season has a lot of potential! 
Heather: I'd give it a solid A. They deftly juggled a lot of story and emotion in 42 minutes and provided intriguing set-up for the rest of the season.
Miranda: I'm giving it an A-, only because of the frustration I'm feeling over the Guerreras and the confusion in my brain when I look at a face that is supposed to be Esther but is clearly not Esther. Other than that, solid, fantastic, interesting opener.
Matt: A. It simplified the storylines a bit by getting rid of Francesca; it included that amazing, aforementioned scene where Klaus regained his full moon strength; and we've barely even touched on Elijah's incredible time to shine, as he calmly taunted Francesca and company before stepping inside her home.
If you missed Monday night's premiere, you can watch The Originals online right here at TV Fanatic.
And here's your early look at The Originals Season 2 Episode 2:
Miranda Wicker is a Staff Writer for TV Fanatic. Follow her on Twitter.