A to Z Season 1 Episode 6 Review: F is for Fight, Fight, Fight

Mary Kate Venedam at . Updated at .
It was bound to happen. Couples always fight, even if they are as cute as Andrew and Zelda. 
However, the fights were even more than just between Andrew and Zelda in A to Z Season 1 Episode 6.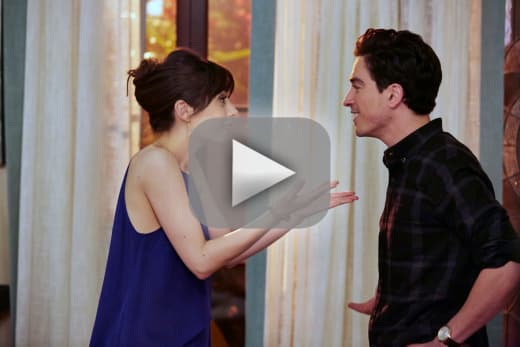 Of the relationship we have seen so far, this was not the strongest part, but then again neither were Andrew and Zelda. Though there were little moments that made the episode the enjoyable show it is.
One of my highlights was the "Cato"-ing effect by Stu. I have never seen The Pink Panther ​and thanks to the helpful narrator (and clip), I was able to understand what it was. The continous gag throughout the episode was funny, especially seeing the giddy look on Stu's face as he planned to trick Andrew each time. 
This meeting should also cover latent racism. You went after those karate noises pretty hard.

Lora
Another moment was as Ben Falcone's Howard yelled/lectured the Wallflower employees, something Big Bird did not succeed at. Since Howard usually has his calm demeanor, it was fun to watch Howard freak out, no matter what ridiculous things were coming out of his mouth. But, at least he got the respect scared out of them.
This meeting should also cover latent racism. You went after those karate noises pretty hard.
One of the little things I like about Andrew and Zelda's relationship is their phone moments; mostly when they can see each other from their office windows. I feel like those times always show how much Zelda likes Andrew -- and just how adorable their relationship can get.
We also saw more of Stephie and Zelda's relationship, especially at work. The stories for these friends have been scarce, I enjoyed seeing more how they interact as lawyers and how Zelda deals with Stephie's relationships. 
Stephie: I've really got a feeling about this one in my gut.
Zelda: Are you sure that feeling isn't a bit lower in your body?
The banter between Stephie and Zelda is great because though they are very different, they still tell it like it is to each other. It would be fun to see more stories with their work life.  
Andrew certainly had some faults revealed with his preoccupation of what Zelda thought of him rather than her issues. Even from the first episode, it was obvious Andrew overthinks a lot of issues, this just so happened to be overthinking at its worse. If only Andrew listened to Zelda when they first talked through the windows.
Poor Abe Lincoln just got in the way of Andrew on a really bad night. 
You're crazy dude, and I should know, I spin signs for a living.

Sign Spinner
The last conversation on Zelda's porch with the "bad boy" tone and not-so-"bad boy" talk of chores, fro-yo, etc., was the time you knew Andrew and Zelda returned to themselves.
Because nothing says "bad boy" like some fro-yo.
Did anyone else not know what "Cato"-ing was before the episode? Which Wallflower character are you liking most? Did the sign spinner have it coming when Andrew jumped at her?
If you want to check out how this relationship got started, make sure you watch the show from the beginning when you watch A to Z online via TV Fanatic.
Mary Kate Venedam is a staff writer for TV Fanatic. Follow her on Twitter and on Google+.