Blue Bloods Season 5 Episode 7 Review: Shoot the Messenger

Christine Orlando at . Updated at .
Everyone was having relationship challenges on Blue Bloods Season 5 Episode 7 and it made for one of the more fun Reagan family dinners this season.
Danny's new boss, Lt. Carver wanted to do a ride along with each of her detectives and Danny was being whiny about it. He's so used to doing things his way, from driving the car to taking the lead in interrogation, that the moment he's asked to do things differently he takes offense.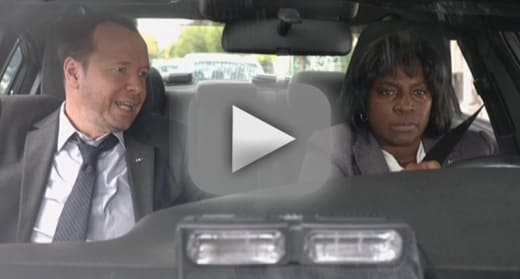 Carver made it clear, she'll support any cop who plays by the rules. That certainly didn't sit well with Danny who would prefer to make his own. 
Still the two worked well together on the drive-by shooting case despite their differing styles. I thought that Carver wanting to adopt the child was a bit of an odd ball twist but I'm interested in seeing where that goes. And Danny obviously loves kids so that was a bit of a bond between these two, albeit an unspoken one. 
Carver puts Danny on edge but that's not necessarily a bad thing. Much as Frank pointed out in this Blue Bloods quote, she seems tough but fair...
Danny: The only Rottweiler causing me any pain is my new CO.
Frank: Carver's a good cop.
Danny: Carver is a ball buster.
Frank: Carver is a good, tough cop. District Attorney McCoy is a ball buster.
District Attorney McCoy certainly got off on the wrong foot with the Police Commisioner. Garrett was right when he said that interview was an ambush. Erin called McCoy out on acting more like a defense attorney looking for a win than a District Attorney who had to work within the system. 
I enjoyed the Reagan family dinner about how order holds people accountable and disorder leads to crime. I understood McCoy's point about being overwhelmed with a "lesser" crime such as smoking pot but then where do you draw the line? Why should some laws be enforced if others are not? 
I loved it when Frank called out Nicky at the dinner table and straight out asked her if she smoked pot. I like Nicky but she can be naive and cocky sometimes and even though her answer was no I don't think she expected the direct question at the dinner table. 
But the job seems to be weighing heavily on Frank this season. As he half-heartedly conveyed to Garrett, the challenges are no longer exciting him. They're dragging him down.
Finally, Jamie and Eddie investigated a suicide. In a weird way I liked Detective Welby. He was oddly entertaining with his strange statistics and terms such as suicide tourism.  But I can guess why he doesn't do death notifications. I'm guessing his bluntness has gotten him into plenty of trouble with those.
Although the suicide turned homicide was sad, it was Jamie and Eddie's interaction that caught my attention. Eddie doesn't need dating advice from Jamie, she and Jamie need to be dating. Of course that might not happen until one of them moves on to something better, like making detective. 
Enjoy a Reagan family dinner and watch Blue Bloods online here at TV Fanatic. 
C. Orlando is a TV Fanatic Staff Writer. Follow her on Twitter.