Blue Bloods Season 5 Episode 8 Review: Power of the Press

Christine Orlando at . Updated at .
Members of the Reagan family were willing to go down in flames to fight for a cause on Blue Bloods Season 5 Episode 8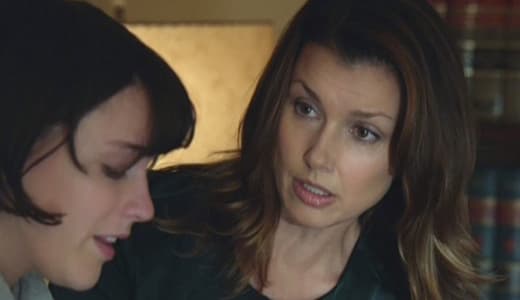 Danny and Baez tried to protect an informant after the US Marshal's backed out on their deal for WITSEC. Granted, Javier Rojas was no choir boy but that didn't mean his deal for witness protection shouldn't have been honored. He held up his end of the bargain when he testified against Orlando Vega. As Lt. Carver pointed out later, why would anyone ever inform on another criminal if they thought their deals wouldn't be upheld?
Carver's handling of Danny and Baez disobeying orders was somewhat amusing. She could have suspended them, or done something formal that would have ended up on their record and Danny and Baez were willing to face the consequences of their actions as Danny told his partner in this Blue Bloods quote...
We're going down in flames, we might as well finish what we started.

Danny
Instead Carver's punishment felt a little like grounding a couple of unruly children but that might be more effective for someone like Danny.
Frank had his hands full with an incident with a body camera going out in the middle of an altercation with a a police officer. It's always amazing to see the pressure the Police Commisioner is under to make an immediate statement or take a side before all of the facts are in. Thankfully Frank Reagan is good about standing his ground.
Using cameras to watch the police is a double edged sword that was discussed during the Reagan's family dinner...
Nicky: A lot of people don't trust cops. It's a fact.
Henry: Let them try living without us for a week.
Personally, I liked Jamie's line, "Hey perp, say cheese."
Erin had her hands full with Nicky's friend Hannah who was raped by a fellow student...three months ago. Despite believing Hannah's story and finding some evidence, the DA was right. There wasn't enough there to win a case of rape. But knowing that the Dean of Students dismissed the torn, bloody skirt during the school hearing and then withheld it after all evidence was subpoenaed, that was more than enough to build a case against her.
The charges for hindering prosecution or withholding evidence may or may not stick but the public backlash once the story hits the papers may force the University to change the way it deals with sexual assaults involving its students. Or at least one can hope that's how it will work. 
I was a little disappointed in Nicky when her take away from all of this was that everyone drinks on campus. I'm not saying that isn't true but no one has to drink or drink excessively and as Erin pointed out to her soon-to-be college age daughter...
The only one who can keep you safe is you.

Erin
You can watch Blue Bloods online any time right here at TV Fanatic.
C. Orlando is a TV Fanatic Staff Writer. Follow her on Twitter.